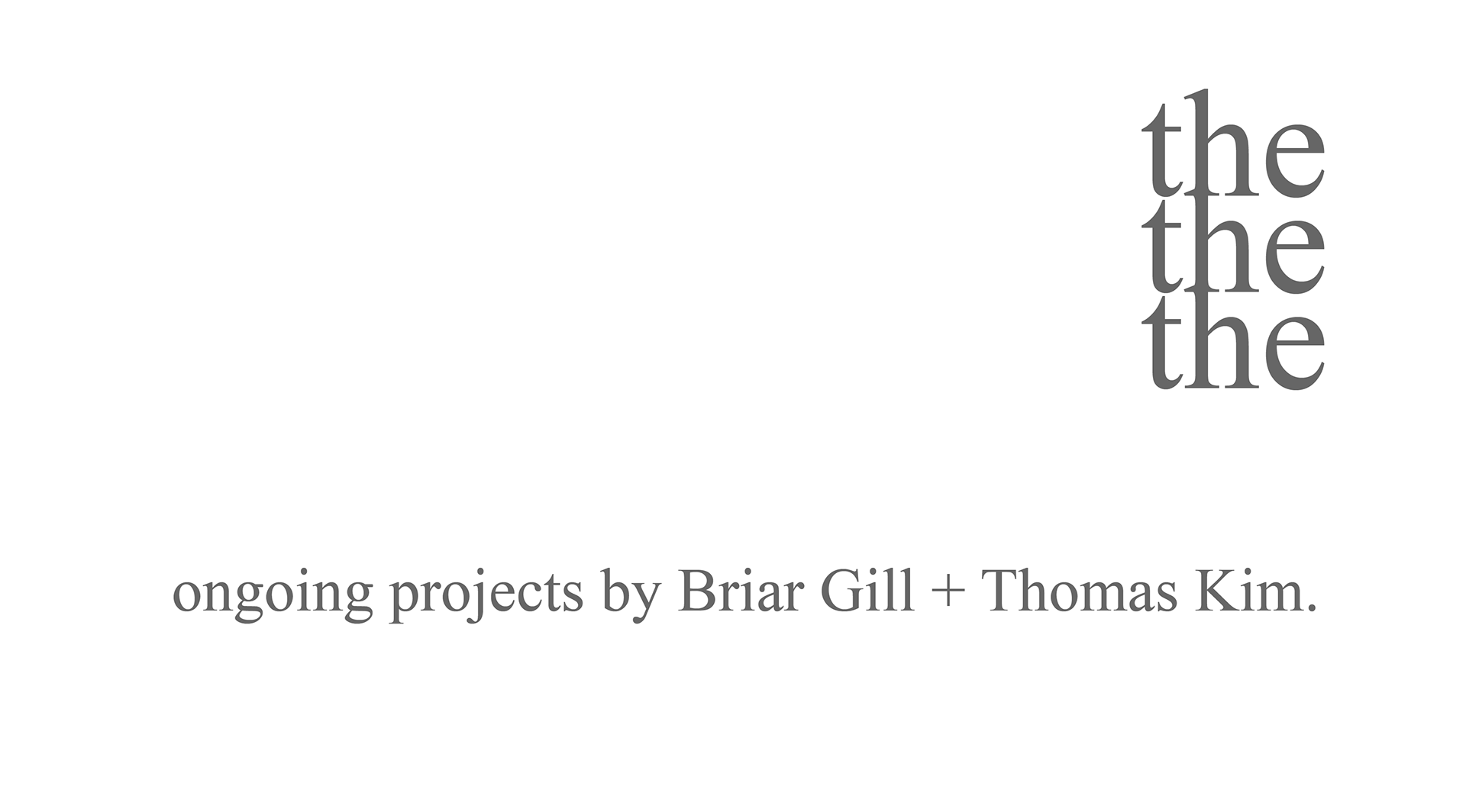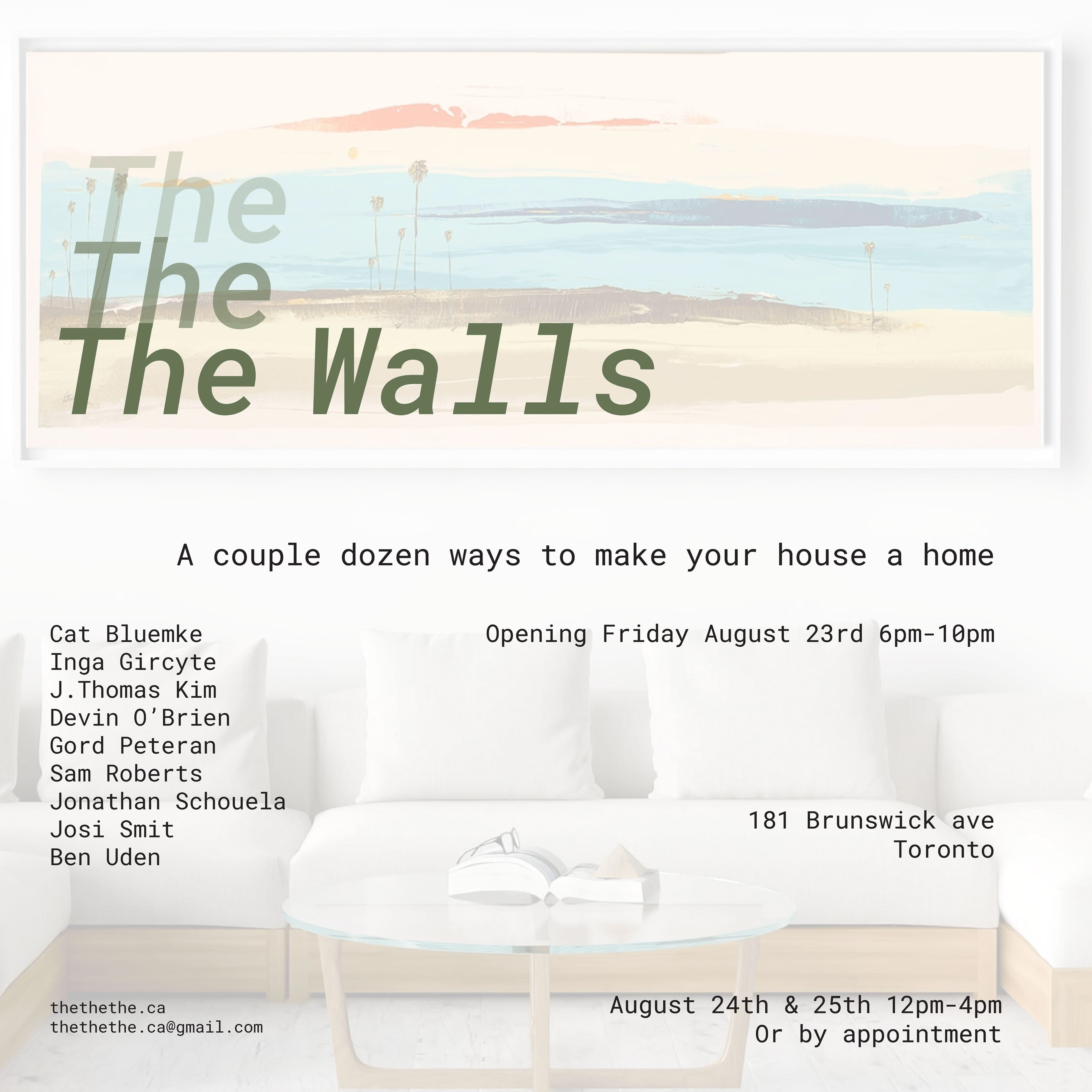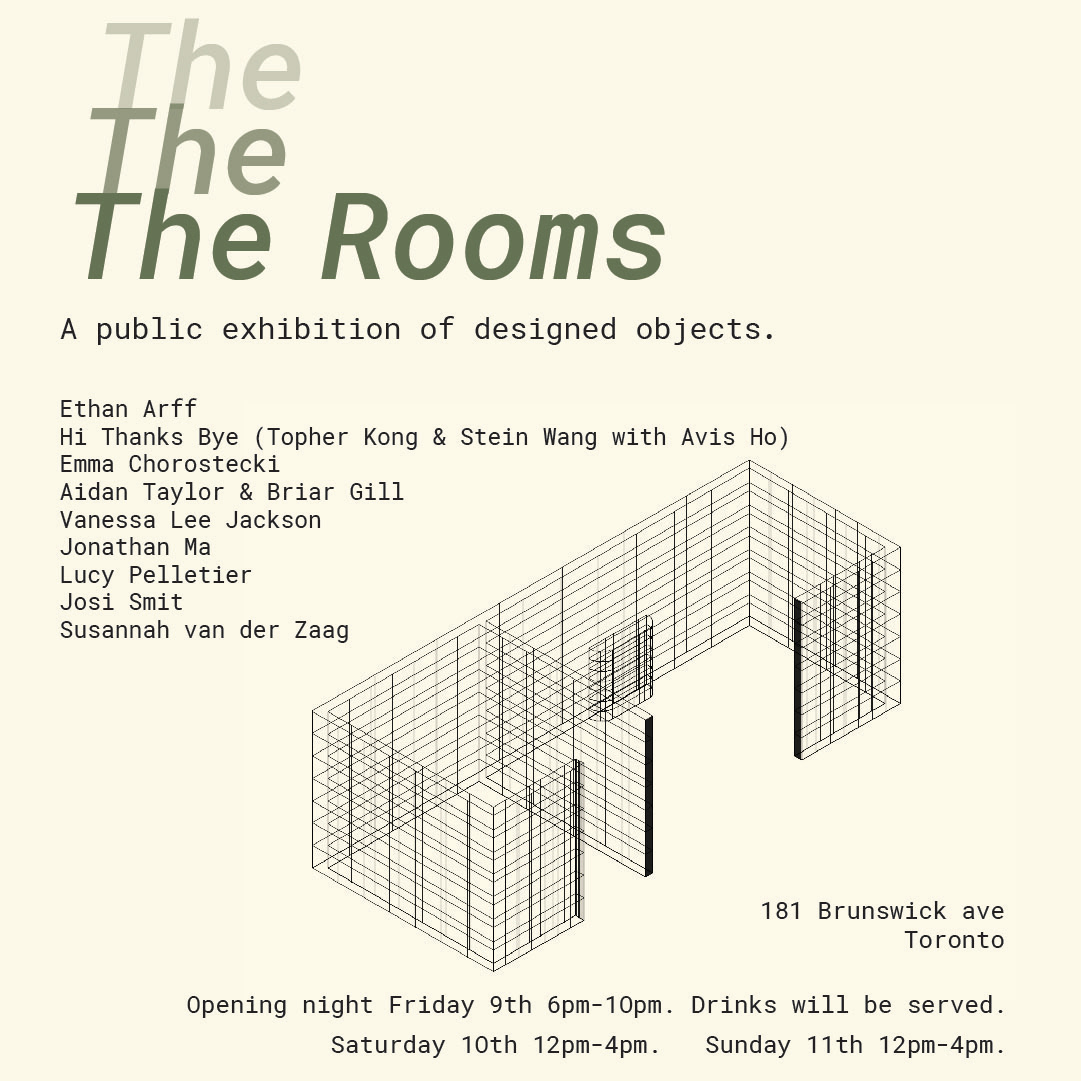 A staged apartment with unusual yet natural pieces.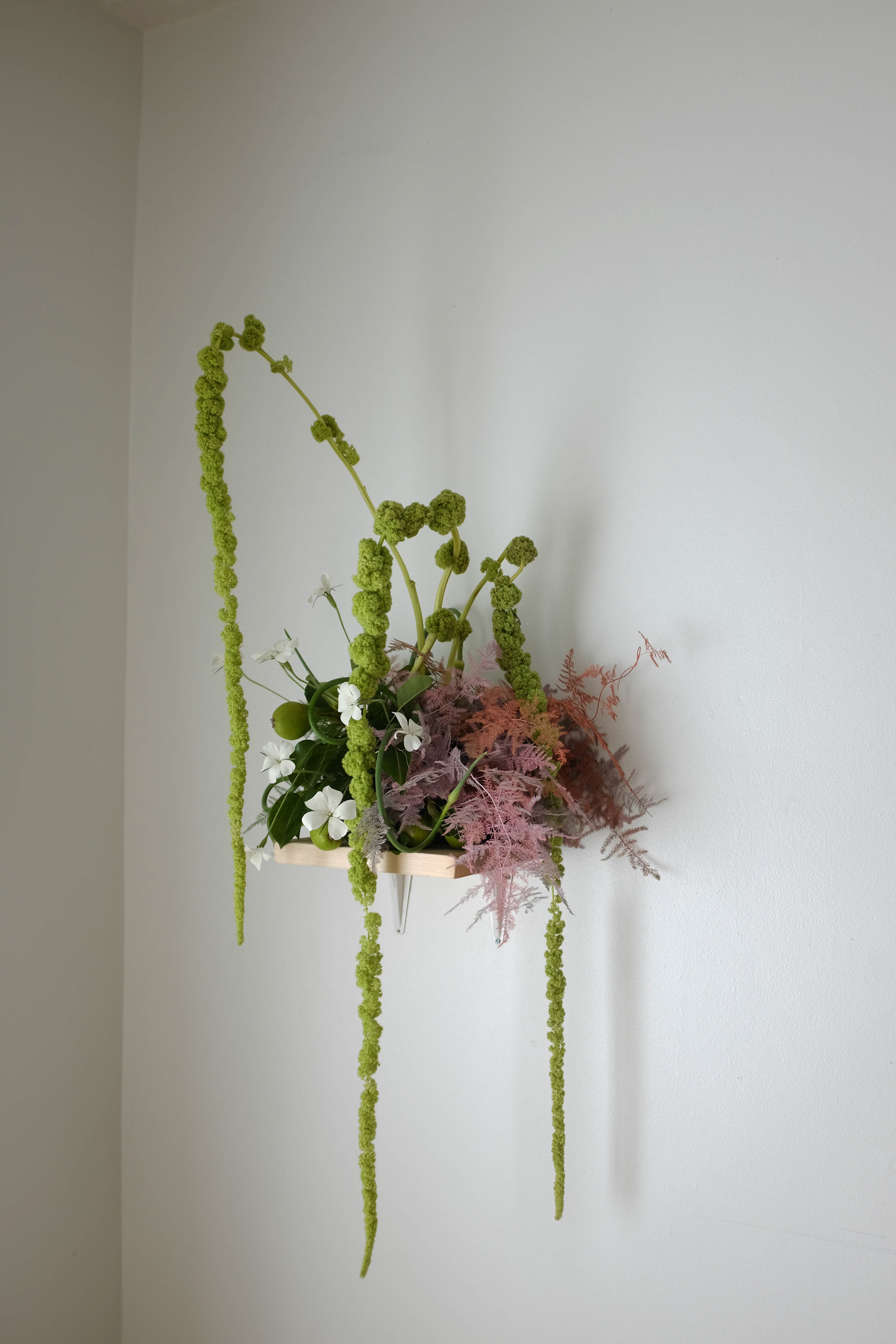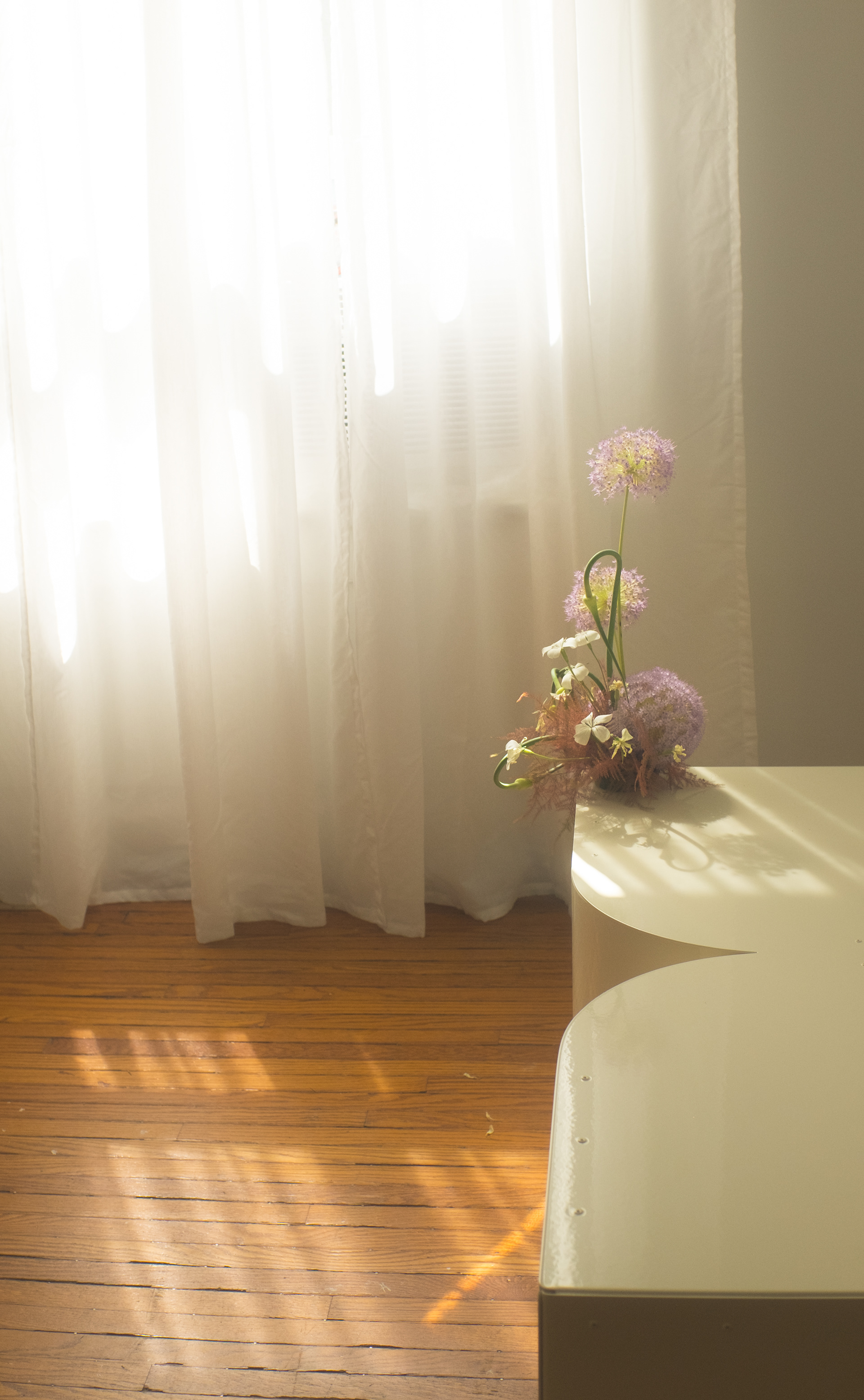 A Convergence of Two Dispositions

(2019) Amaranthus, agrostemma, pear, garlic scapes, asparagus fern, foam and tray. 24" x 10" x 10"

A Convergence of Two Dispositions is A celestial pocket merged with the contents of your Aunt's home garden. 
Susannah van der Zaag is a floral designer and farmer, with a background in photography and sculpture.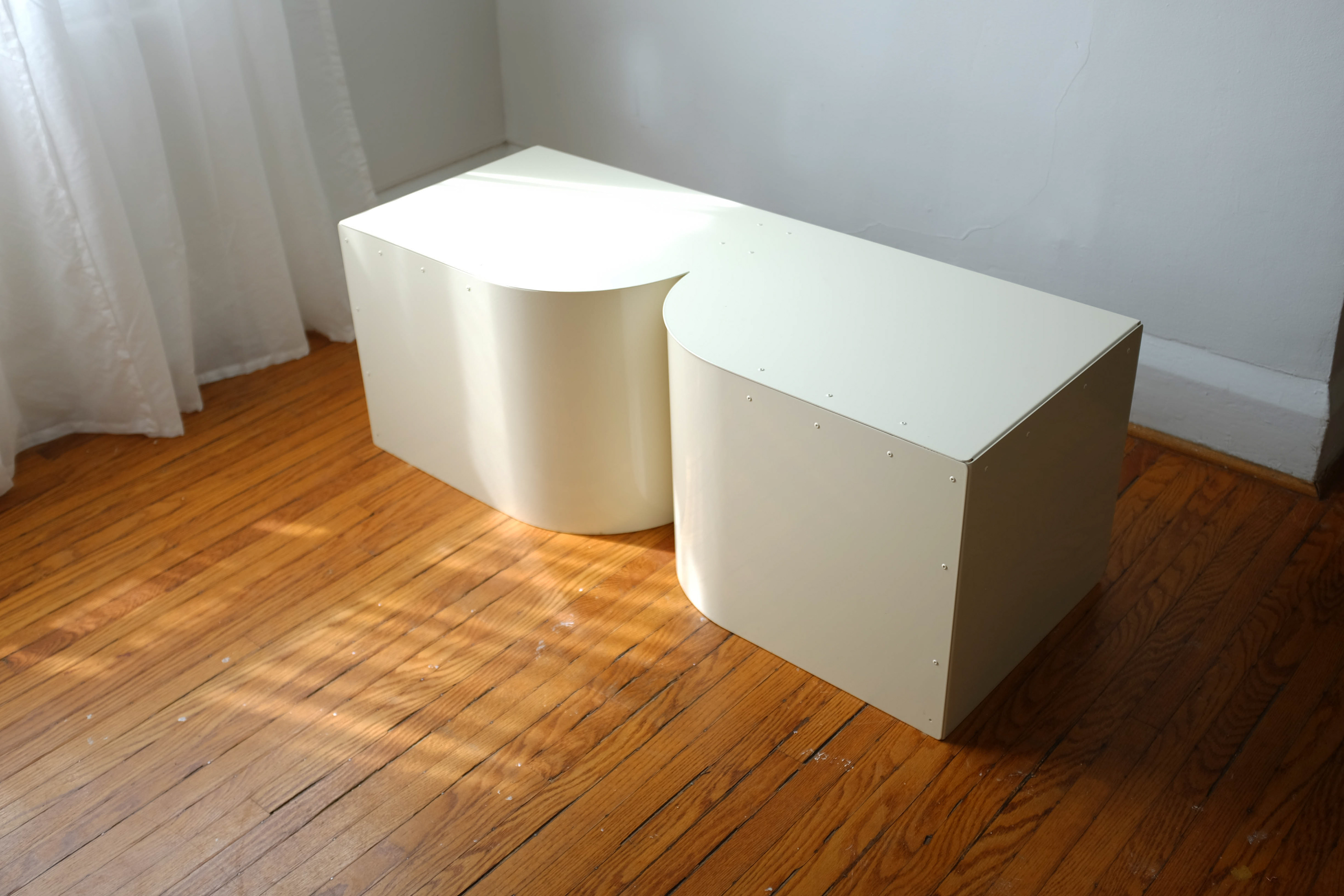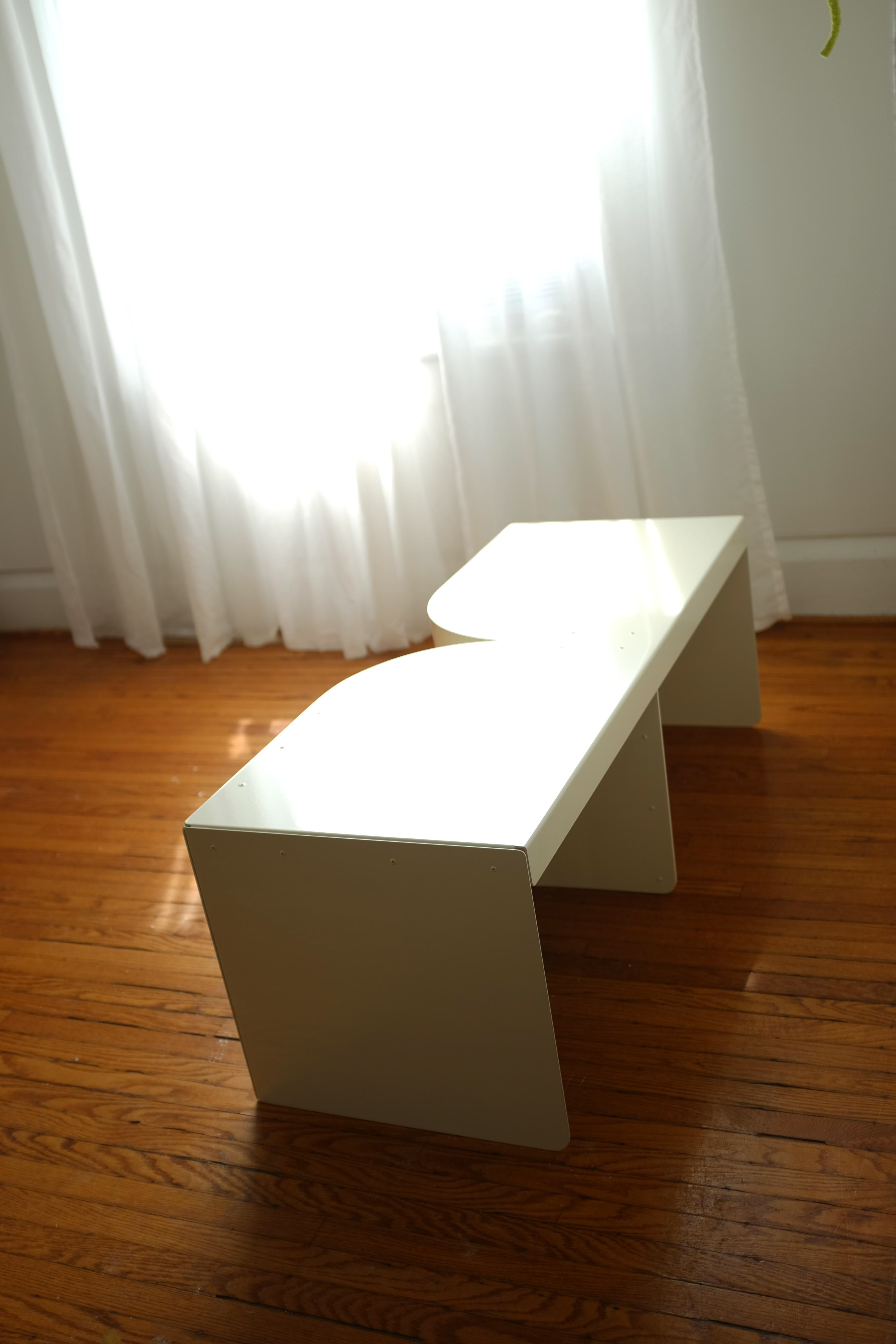 White Bench

(2019) Powder coated Aluminum, 44" x 16" x 17".

White Bench is fabricated from 11-gauge aluminum sheet stock, via brake forming on a pan brake. The piece is both an exploration and celebration of brake forming. 
Ethan's work aims to define the intersection between mass produced and bespoke furniture. He celebrates the unique qualities of the machinery used, with his process being best distilled down to how he can serve the machine, opposed to it serving him.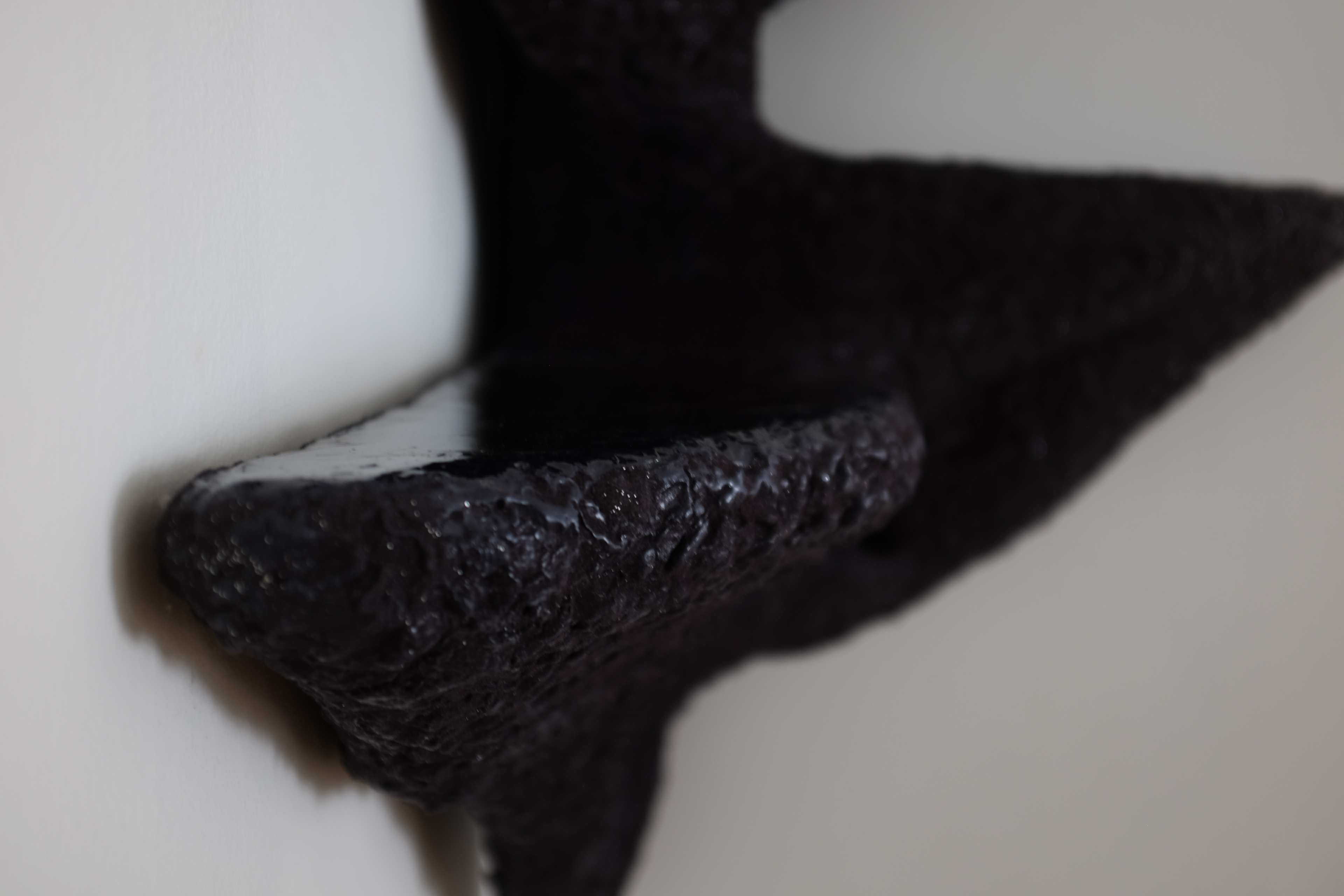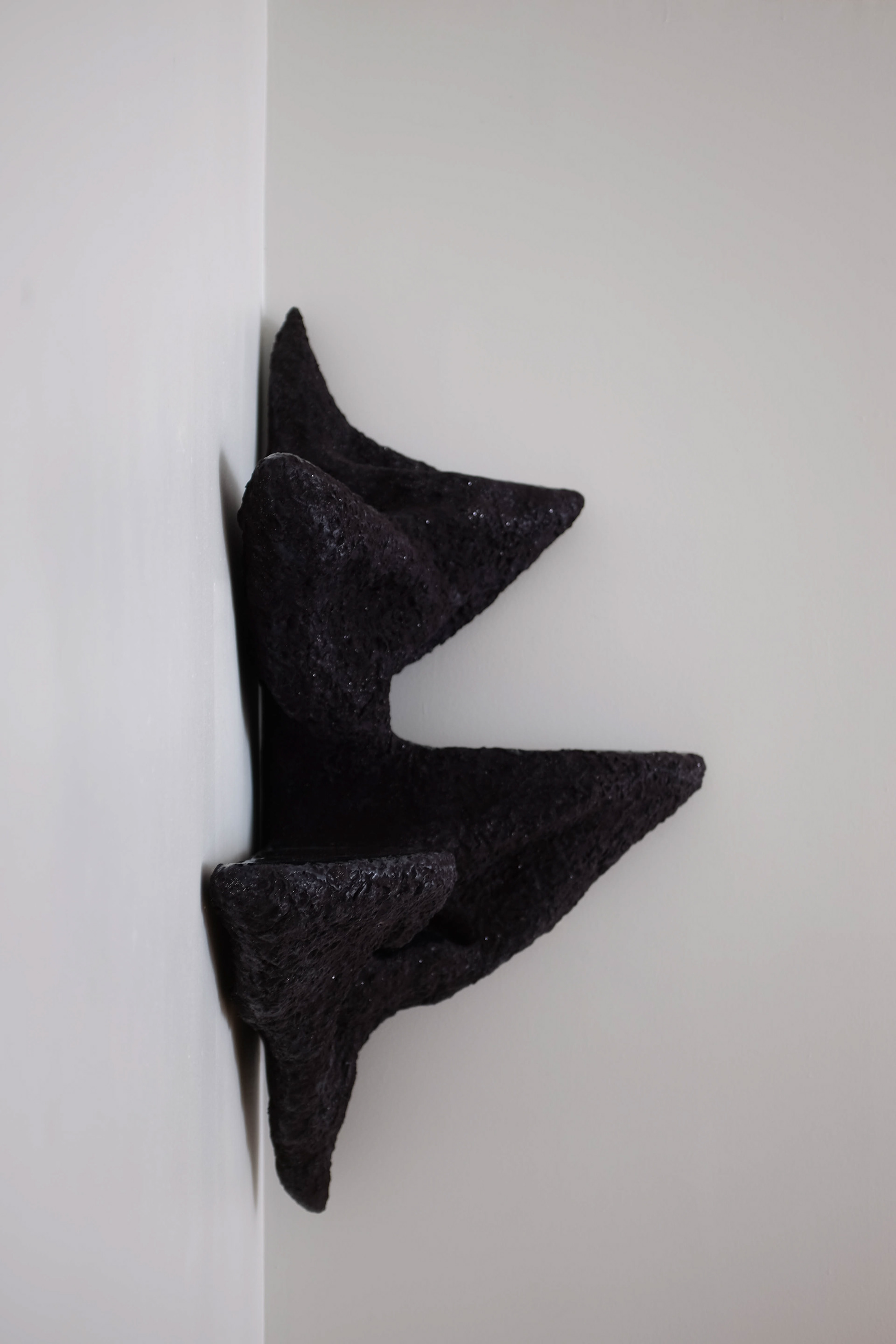 Black Mold Shelf

(2019) Paper pulp, paint, dye, resin & flocking 
Black Mold Shelf was created under the principles of ornamental biophilic design, intended to abstractly mimic the properties of mold in a functional manner. 
Vanessa Lee Jackson is an artist, designer and fabricator based in Toronto. She creates custom furniture, objects and props using varying mediums. Working across disciplines, Vanessa aims to design functional sculpture.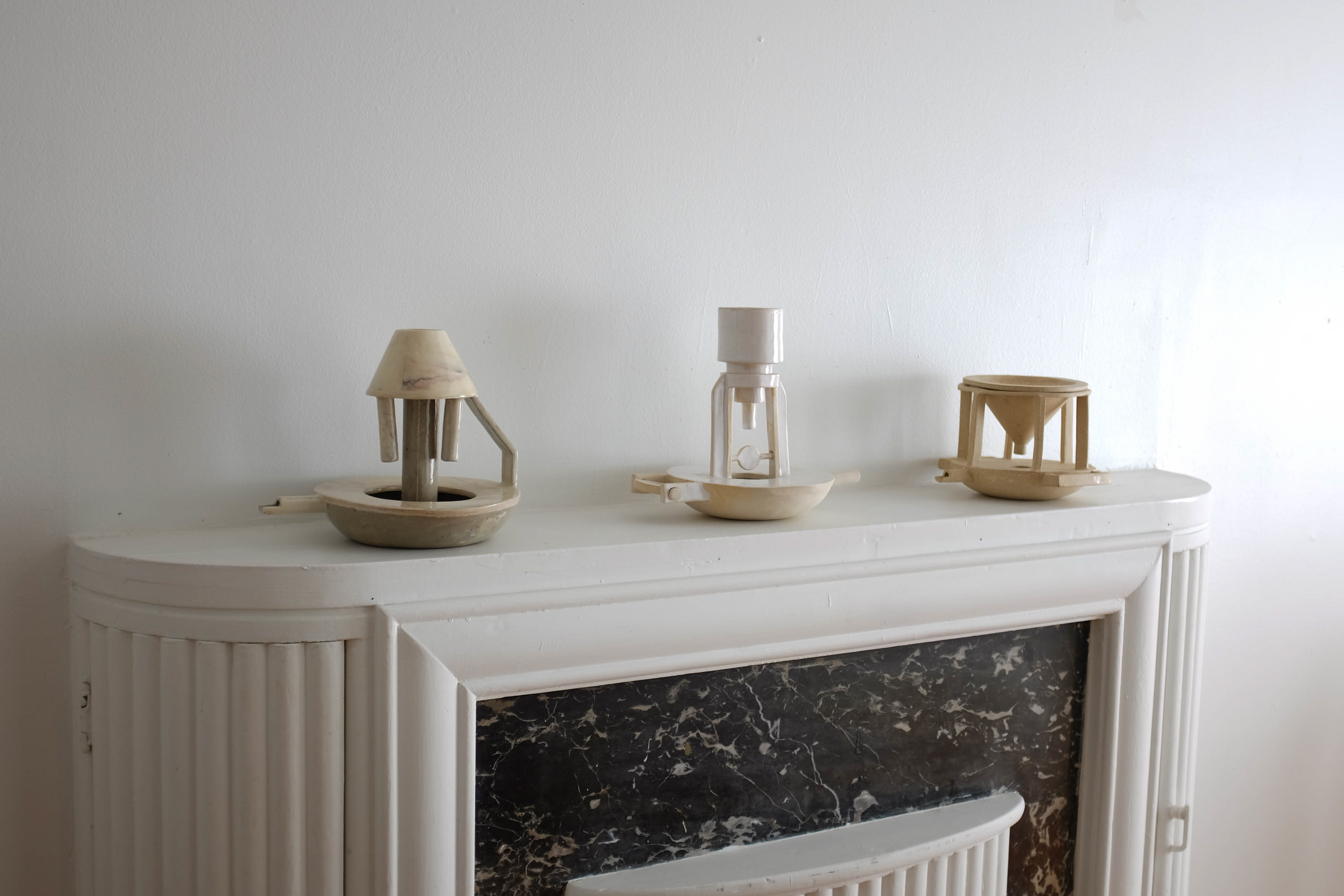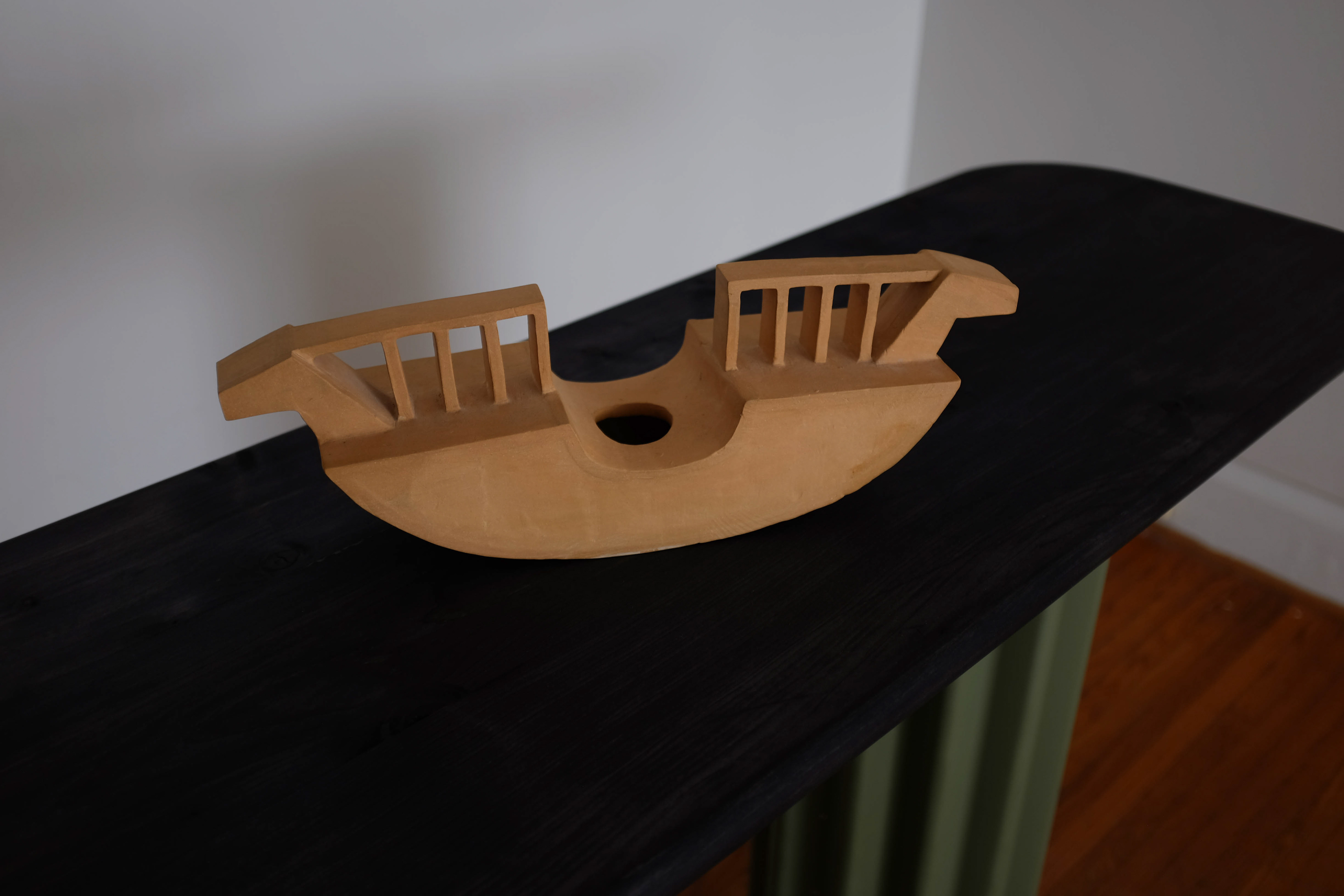 Lucy Pelletier

Water Jug 1

(2017) Clay, 15"W x 12"H. 
Handbuilt ceramic water jug with spinning handle. 
Water Jug 2 (2017) Clay, 15"W x 12"H. 
Handbuilt ceramic water jug with double spout.
Water Jug 3 (2017) Clay, 14"W x 12"H. Handbuilt ceramic water jug.
Two-way Water Jug (2018) Clay,  21"W x 6"H x 5"D. Handbuilt ceramic water jug with double spout 
.
Lucy Pelletier is an artist and designer working predominantly in clay, currently living and working in Hamilton, Canada. In the design of her work she takes inspiration from science, architecture, and domestic life to create objects that are joyful and beautiful.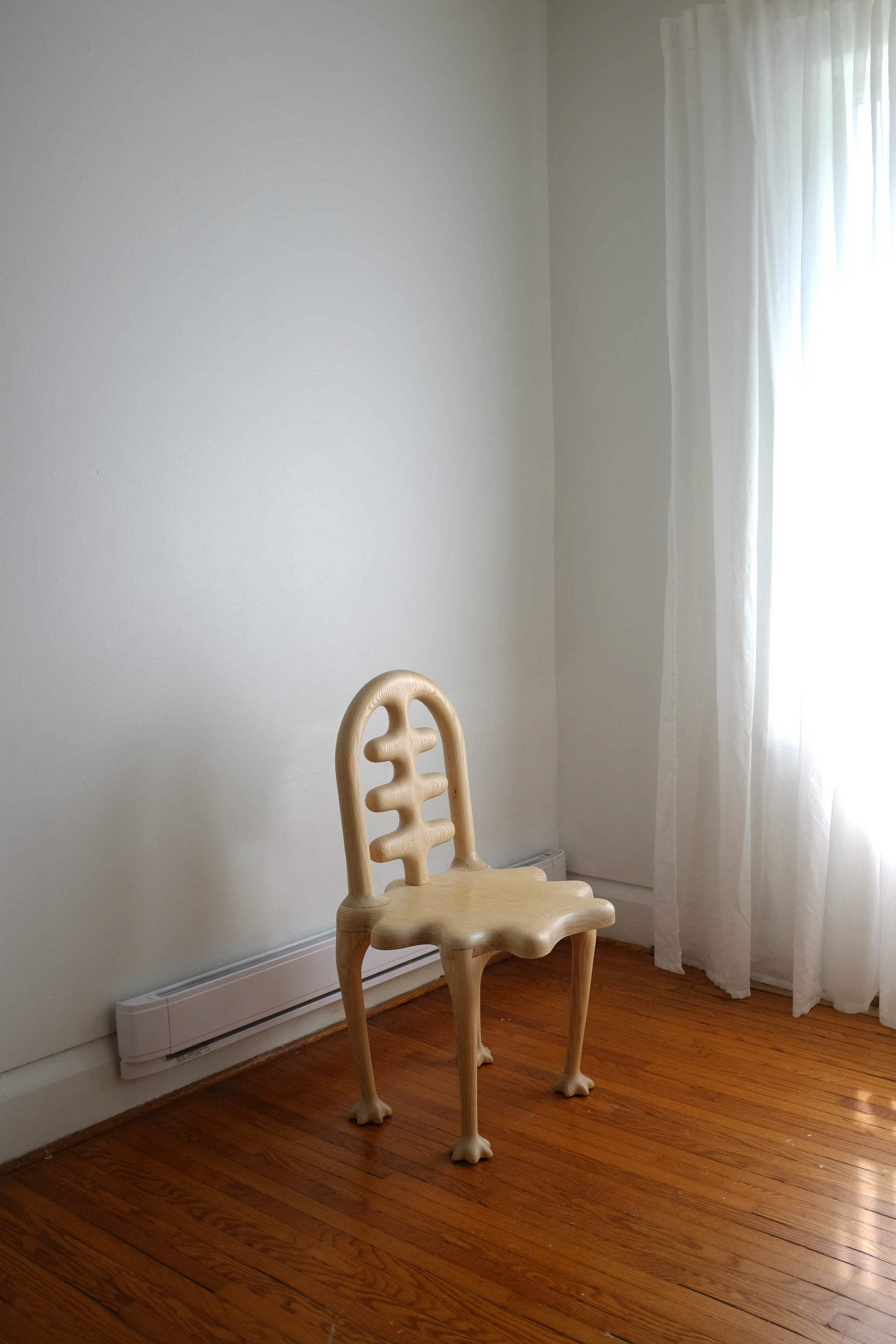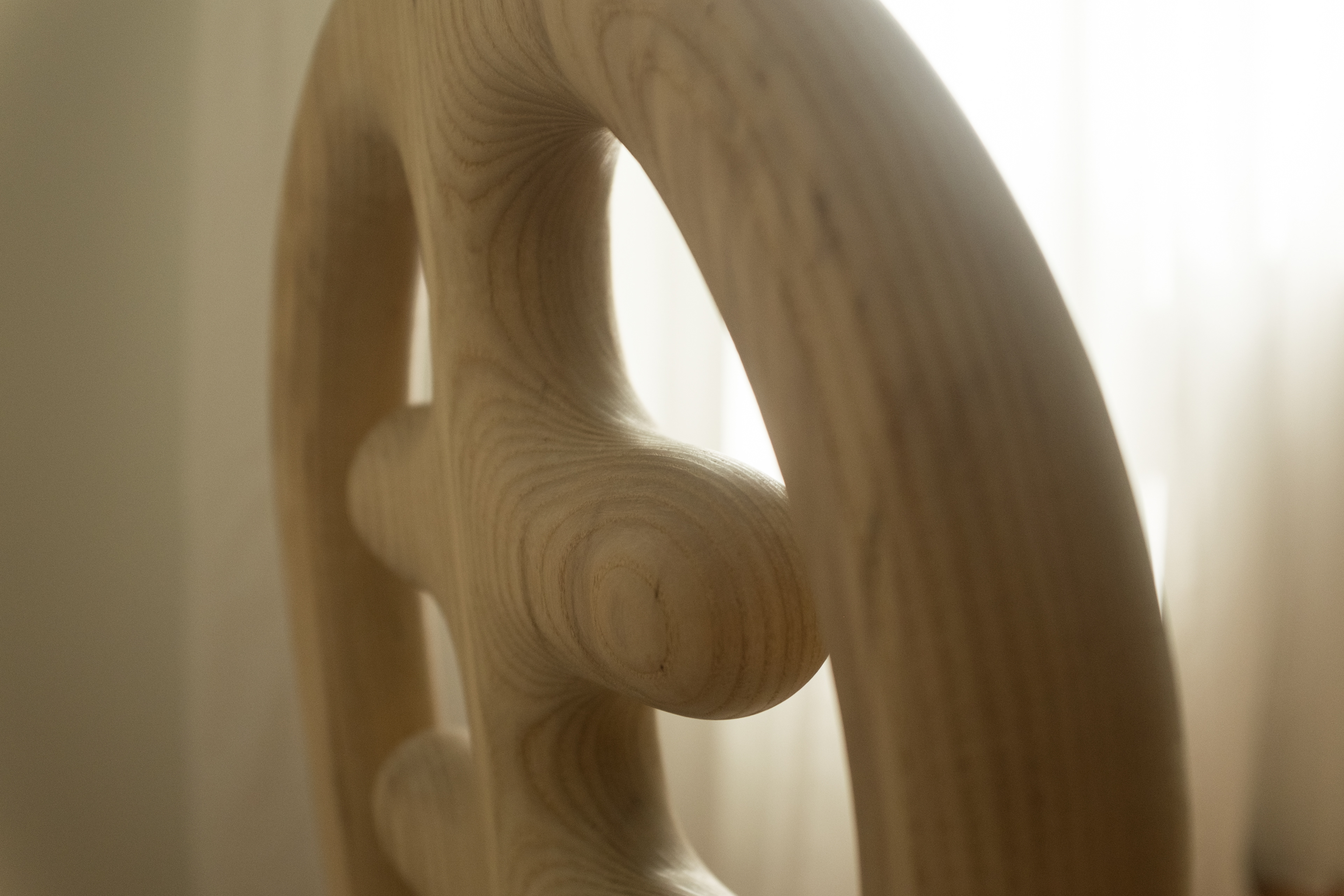 Junglefowl Chair

(2018) White Ash 20" x 20.5" x 37".

Junglefowl Chair was created with the intention of capturing the humorous and redundant features of nature's various creatures through the use of organic forms in repetition. 
Jonathan is an industrial design student at OCADU engaged in learning more about various fabrication processes. His current interests include vernacular design and permaculture.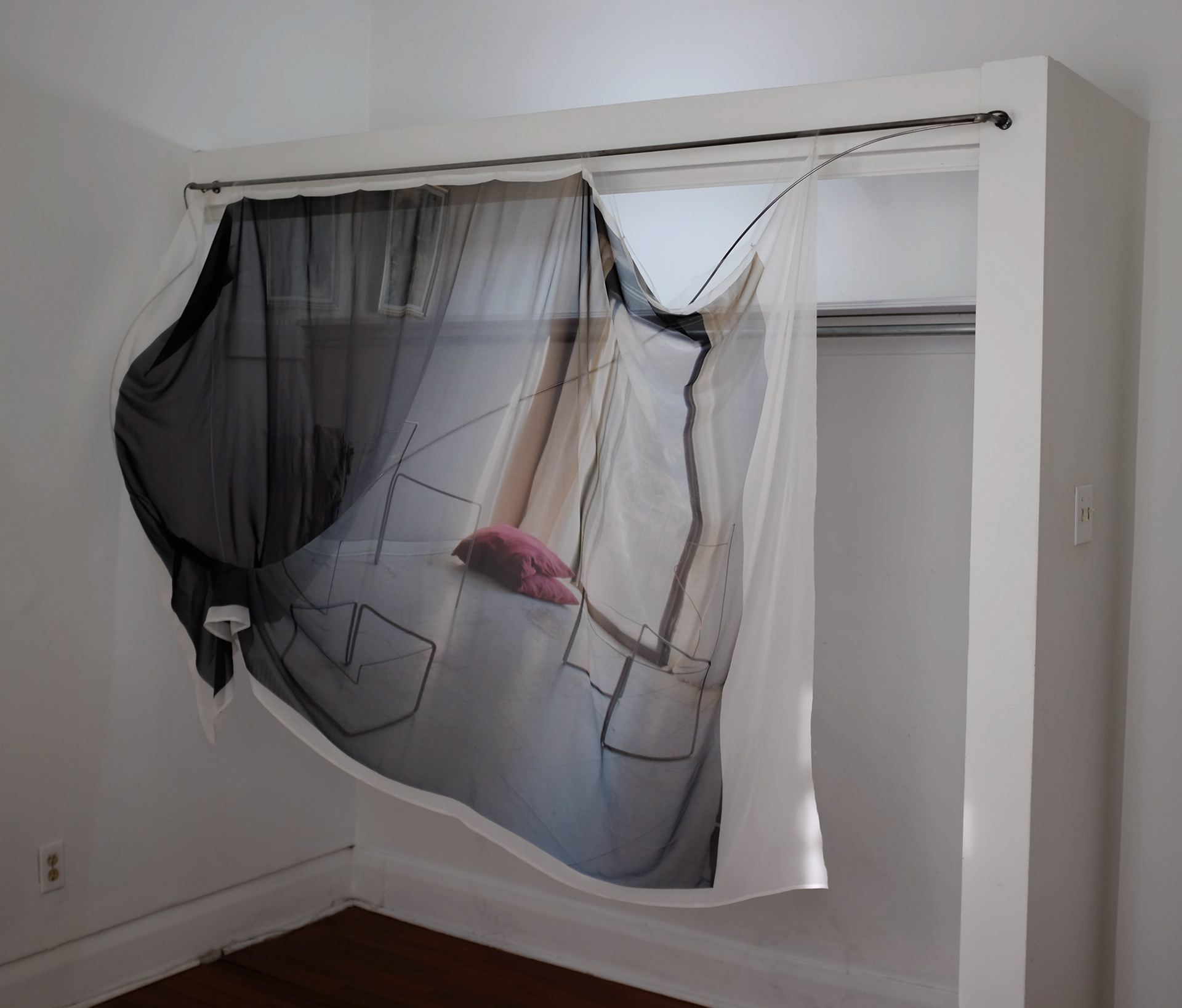 Cozy 3 BDRM Above Vibrant Cabbagetown

(2018) Digital print on silk georgette, steel. 58 x 80 x 15"

In the air between us and the "things" we engage with, there is always a subtext of associations and expectations. From outlines we spark attachments and recognitions: particle board is for round side tables that hide underneath lace cloths; sunflowers belong on tea towels in sunlit kitchens. As a part of a larger project, Cozy 3 BDRM Above Vibrant Cabbagetown focuses on the home as the original site of memories and imaginations that propel us in tides of desire towards objects, the way this desire proliferates through the promises contained in advertising and housing markets, and speculates ways quiet freedoms can emerge from immersions in fantasy. 
Josi Smit is a Toronto-based artist whose practice includes sculpture, installation, photography, and text. Her work considers the intimacies that form in our relationships with objects and spaces, and how agency can emerge from tenderness and fantasy. She holds a BFA in Sculpture/Installation from OCAD University.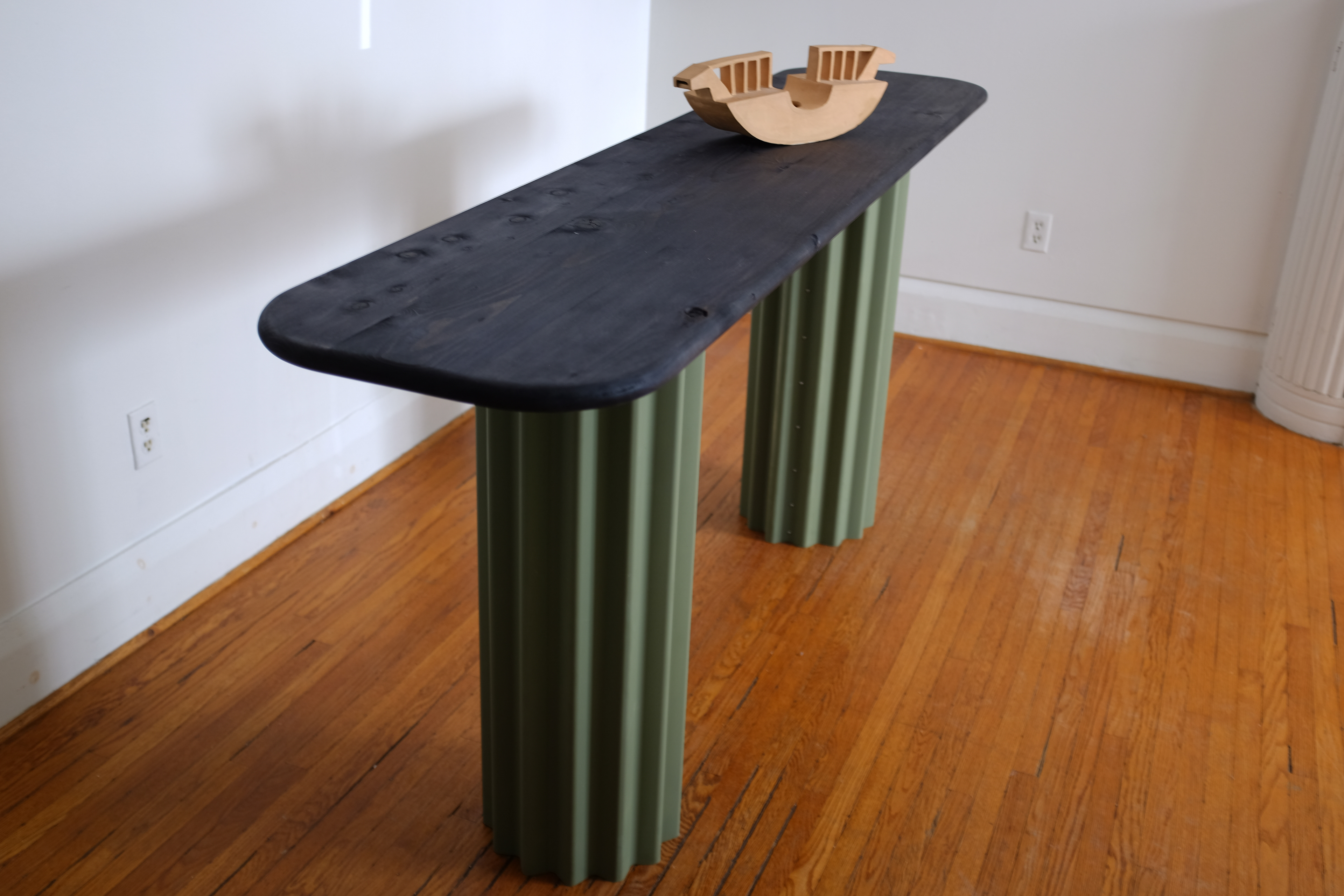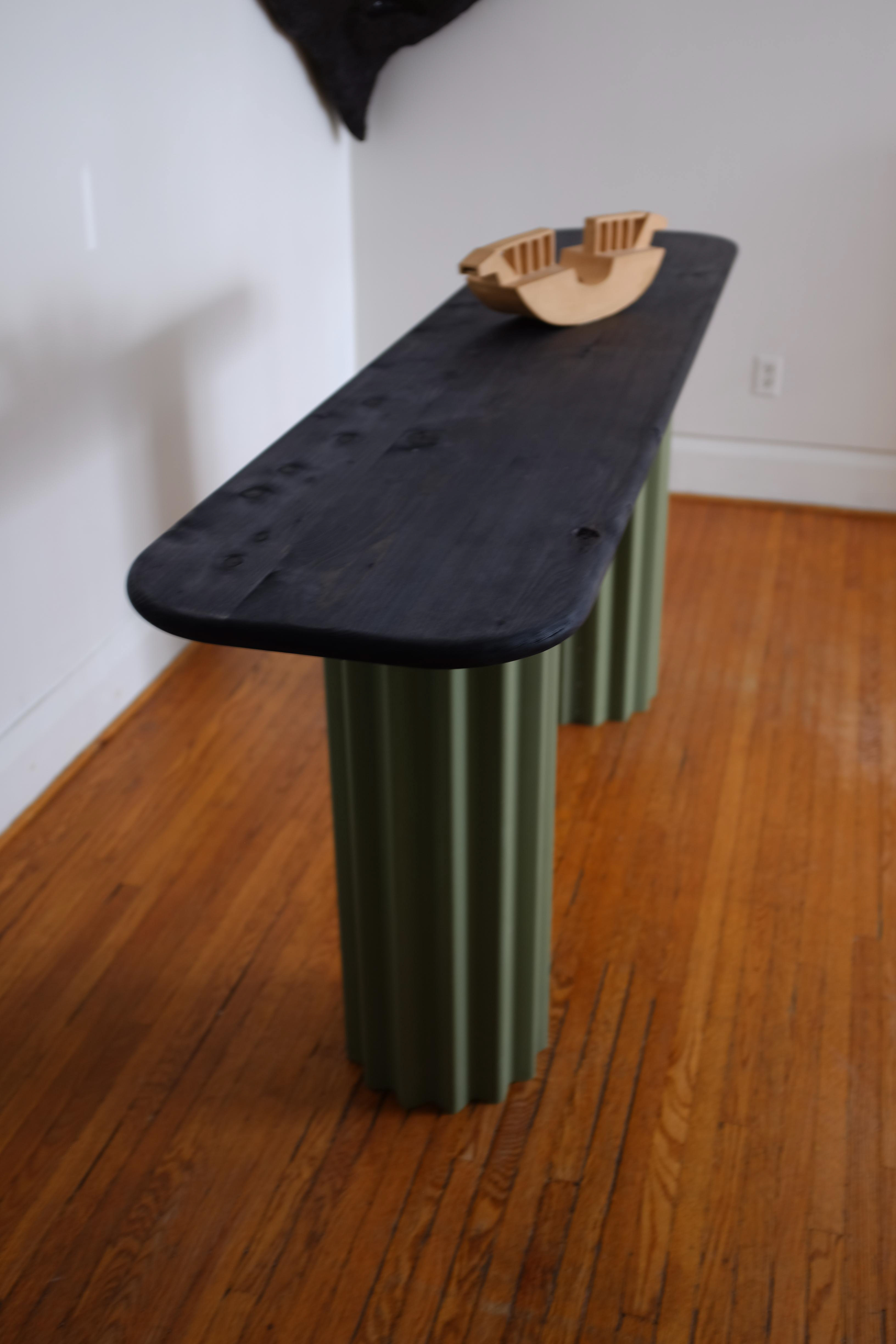 Aidan Taylor & Briar Gill 
Together Without Chairs

(2019) Pine and corrugated steel. 84" x 37" x 19"

Designed for this show, the prototype's approachable form serves as a gathering point for groups of various sizes. Its narrow width and standing height aims for short intermissions of closeness. 
Aidan Taylor is a Product/Interior Designer with a passion for woodworking. Through his knowledge of carpentry and craftsmanship, his work reflects design innovation, and exploration, while still maintaining the true art of craftsmanship, combining new ideas with old processes. 
Briar Gill, is a recent industrial design graduate of OCAD University, Toronto. Her visual brain leads her to creation and curation with focus on objects and spaces.
Stools II

(2019) Solid Hard Maple, Wood Bleach, Waterbase Varathane. 12 x 12 x 14 "
Kick up your feet. Reach that top shelf. Water your plants. Rest that glass of water down.
Toronto based artist Emma Chorostecki is a multidisciplinary artist and designer working primarily in wood. Trained in furniture craft + design at Sheridan College and contemporary dance at Concordia University, Emma creates work that travels the spectrum between conceptual and functional. Her practice uses furniture as a medium to challenge preconceived notions of reality, identity and comfort.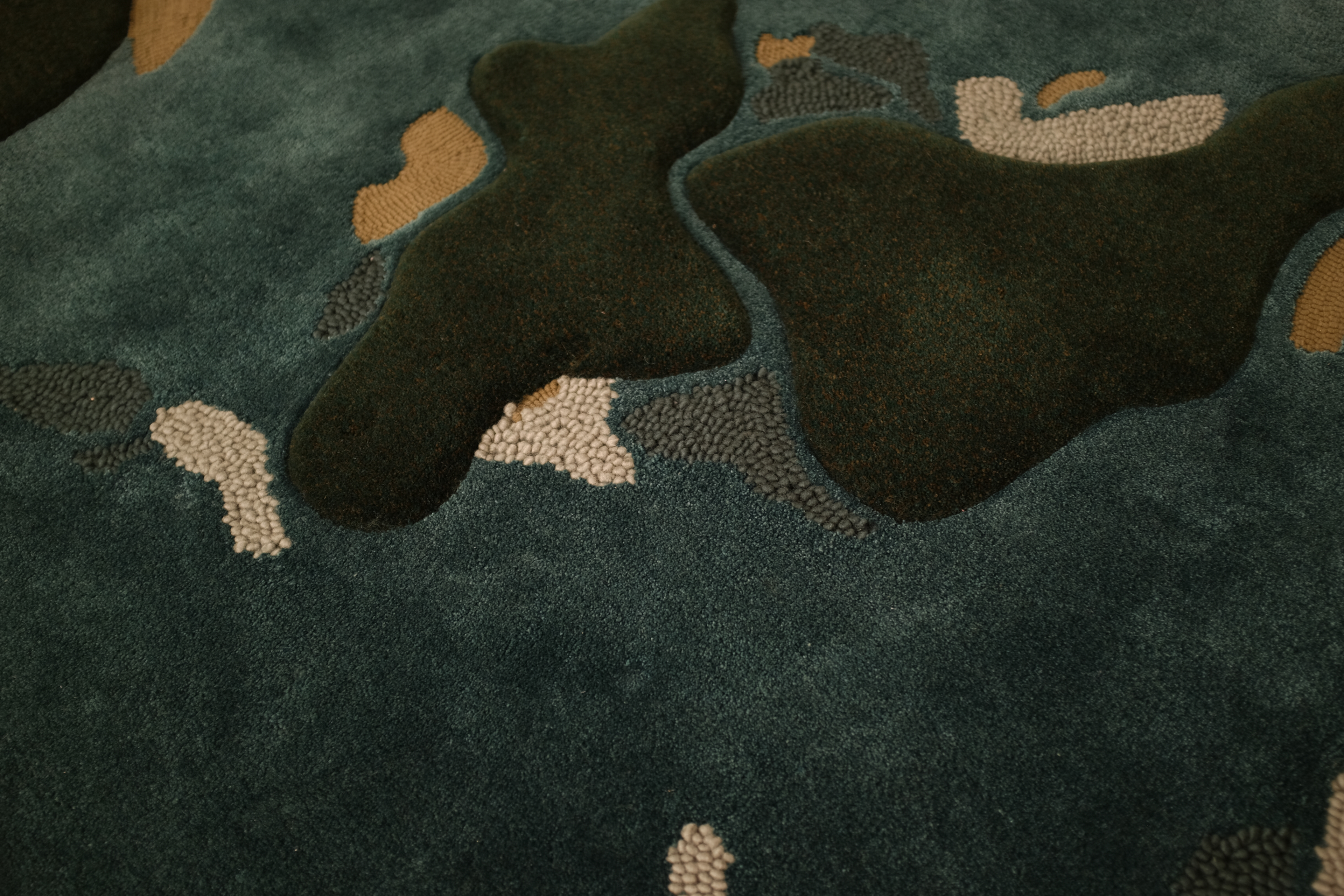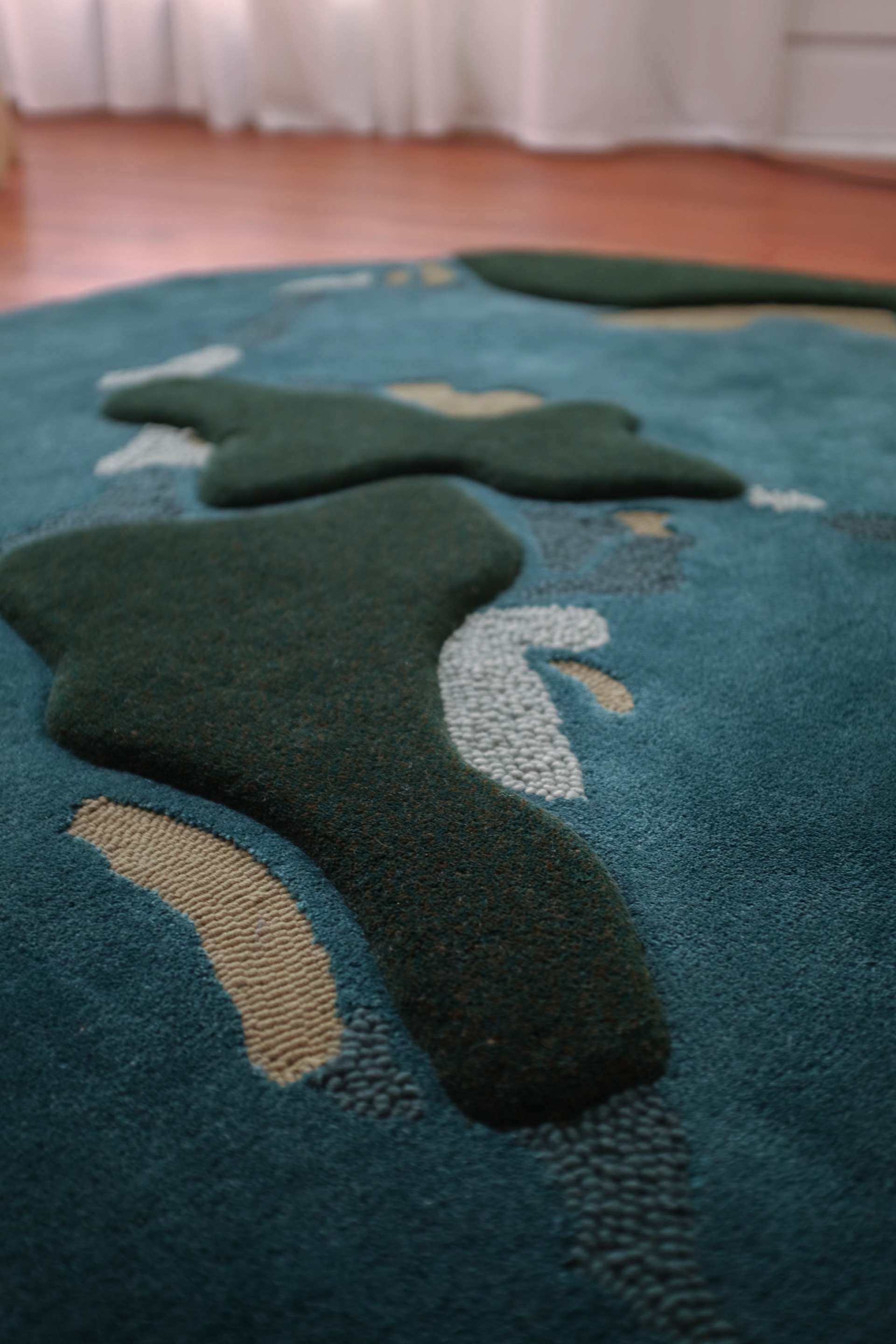 Hi Thanks Bye - 
Topher Kong and Stein Wang in collaboration with Avis Ho
OO Area Rug [Collection O]

(2018) 50% New Zealand Wool, 45% Tencel® Fibre, 5% polyester. Ø132 cm.
OO Area Rug. Breathing in the damp air, walking along the shore of Fogo Island, the plush feeling of stepping on the moss. These memories were evoked when we made the rug OO. Hand-tufted with a blend of material including New Zealand wool, polyester bands and Tencel® fibre.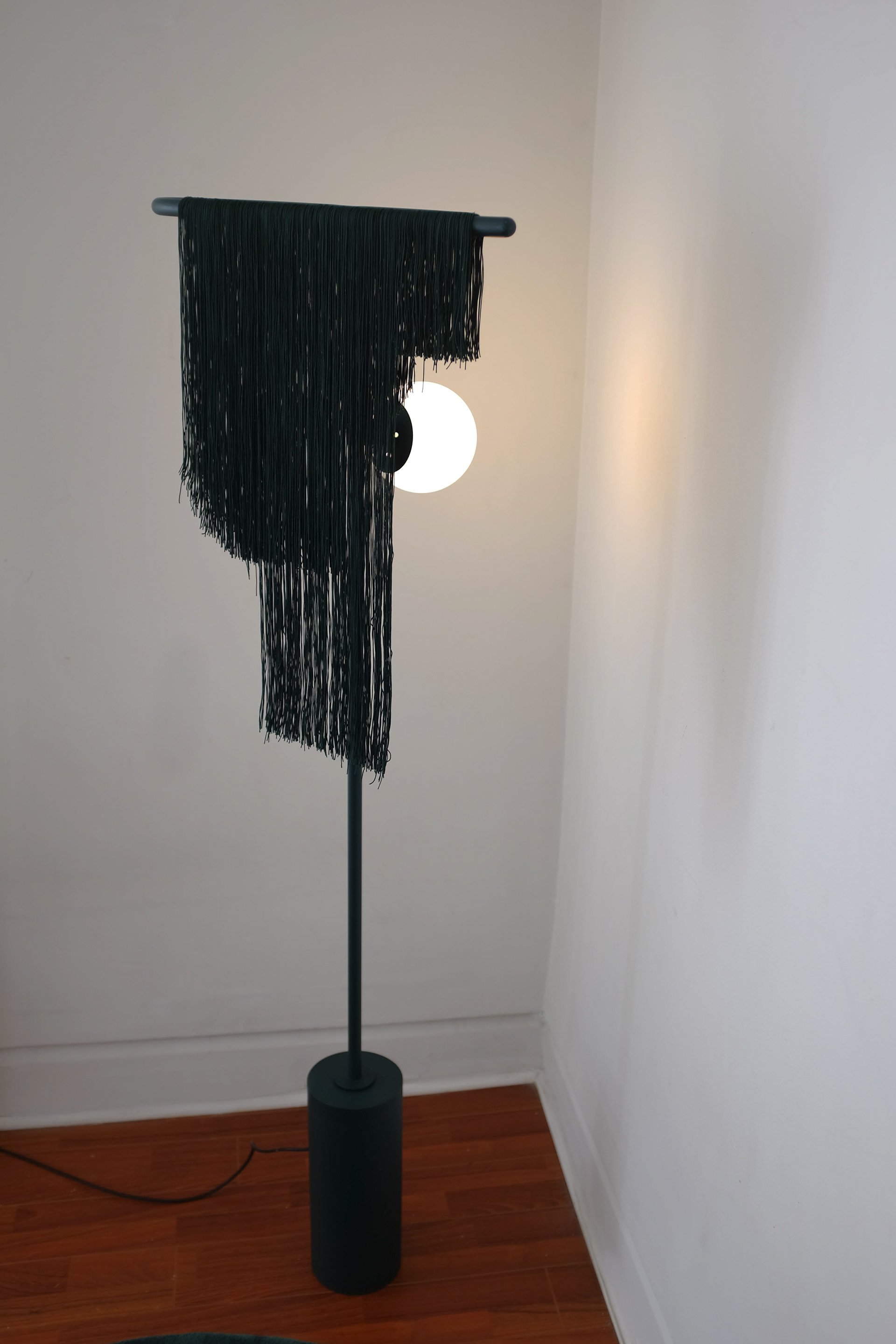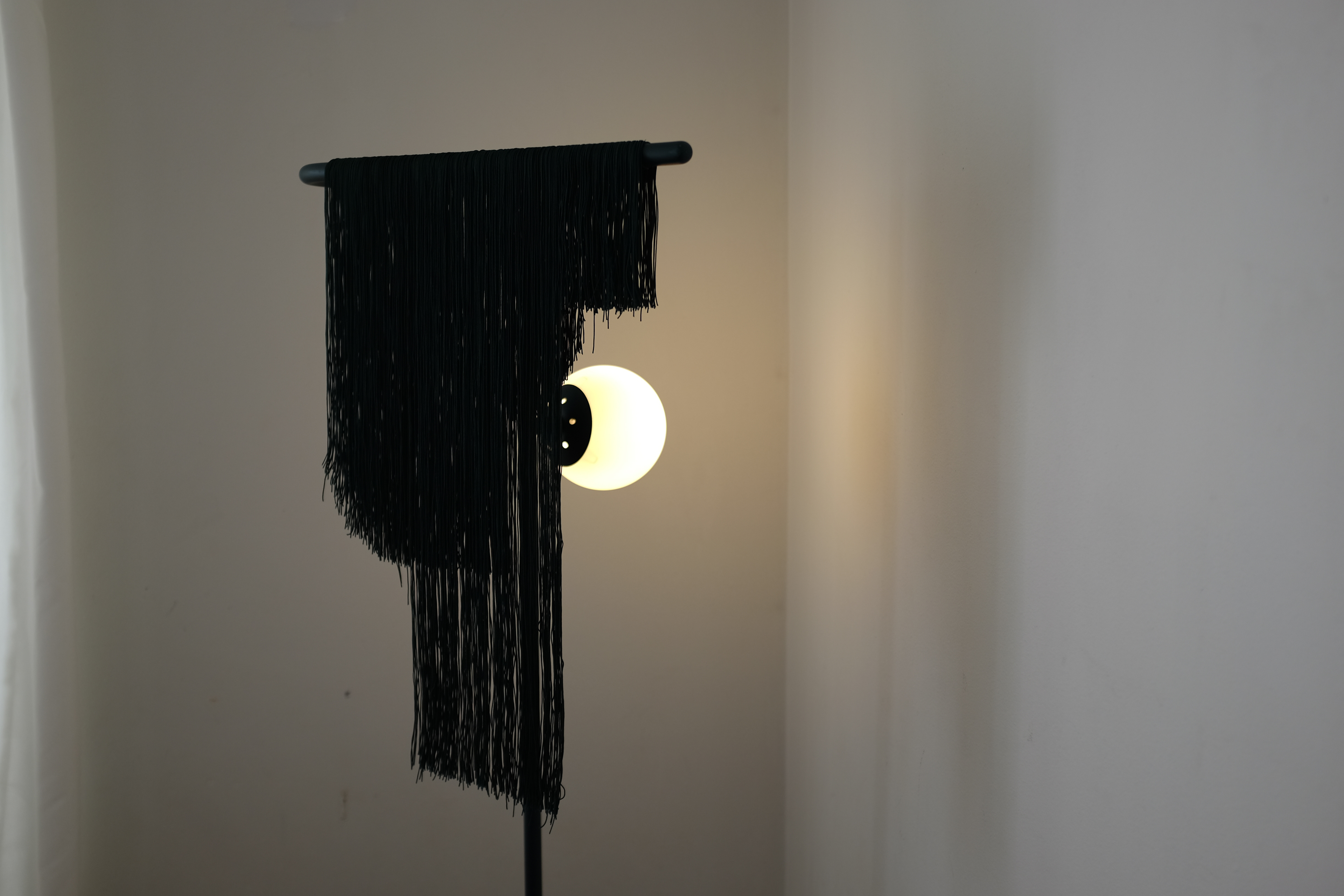 Hi Thanks Bye - 
Topher Kong and Stein Wang in collaboration with Avis Ho
FO Floor Lamp [Collection O]

(2018) Powder coated steel frame; frosted glass globe, hand-woven fringe. W54 x D20 x H165 cm.
FO Floor Lamp is A poetic interpretation of the moon shining over Lake Ontario. By utilizing a traditional Chinese textile-making technique, Hi Thanks Bye's cold steel and organic fringe floor lamp FO is designed to represent a blend of two cultures.
Formed in 2017 by Chinese Canadian duo Stein Wang and Topher Kong, Hi Thanks Bye is an interdisciplinary design studio based in Toronto, Canada. The studio has a firm belief that objects should be storytellers themselves. Despite having the shared objective, Stein and Topher have strikingly different design styles, one designs with reason; one designs with emotion.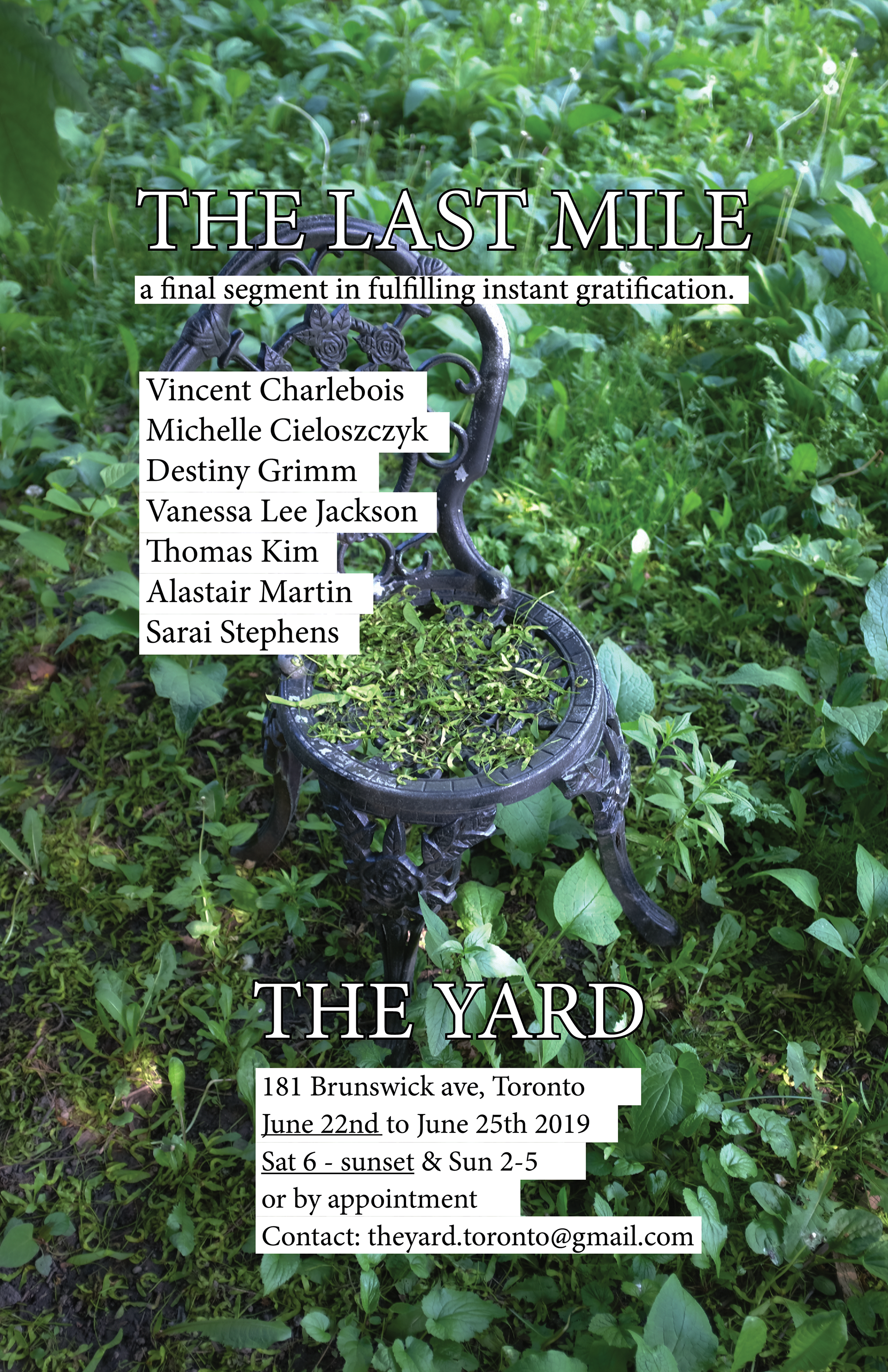 A group show with artists and designers; Vincent Charlebois, Michelle Cieloszczyk, Destiny Grimm, Vanessa Lee Jackson, Thomas Kim, Alastair Martin and Sarai Stephens.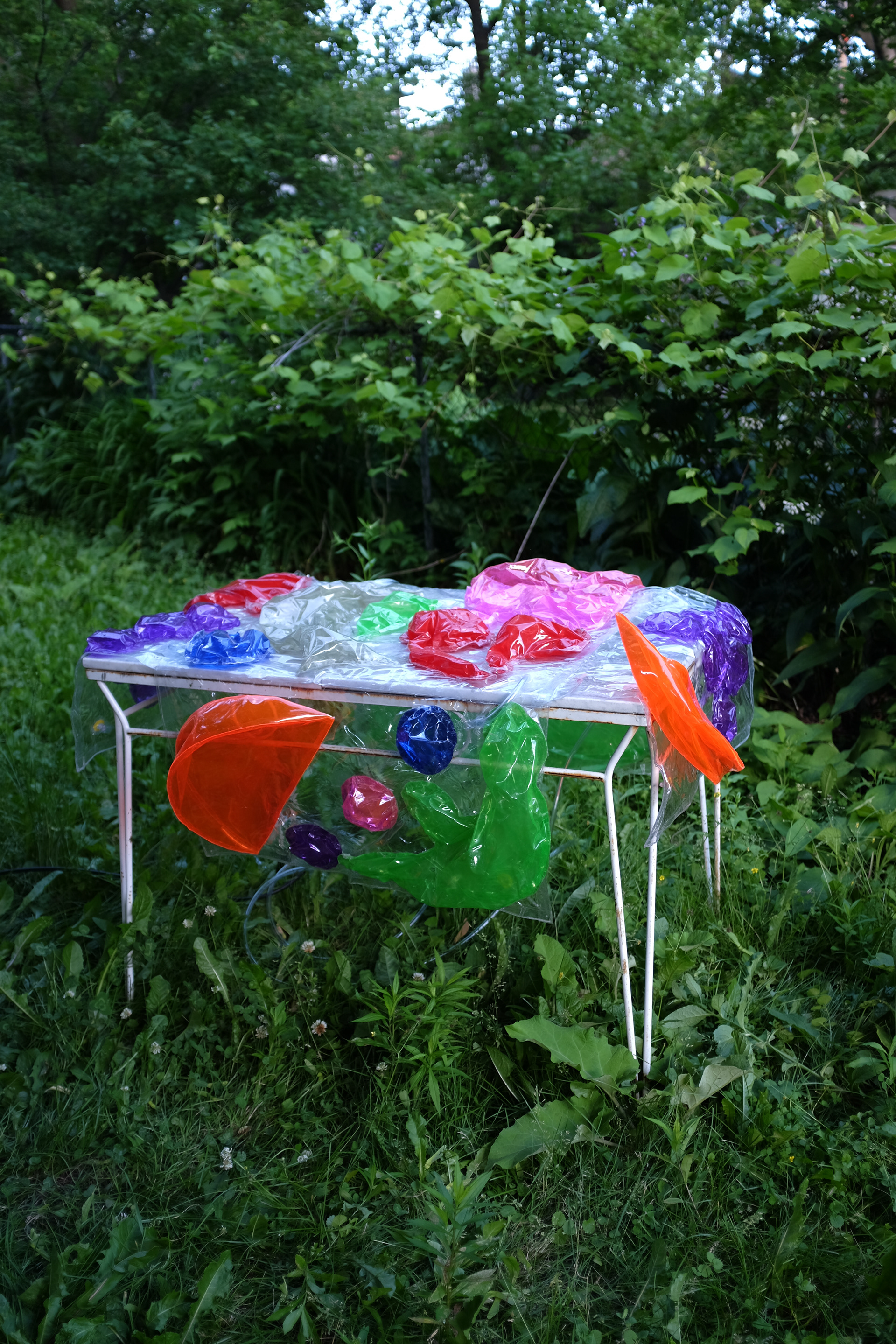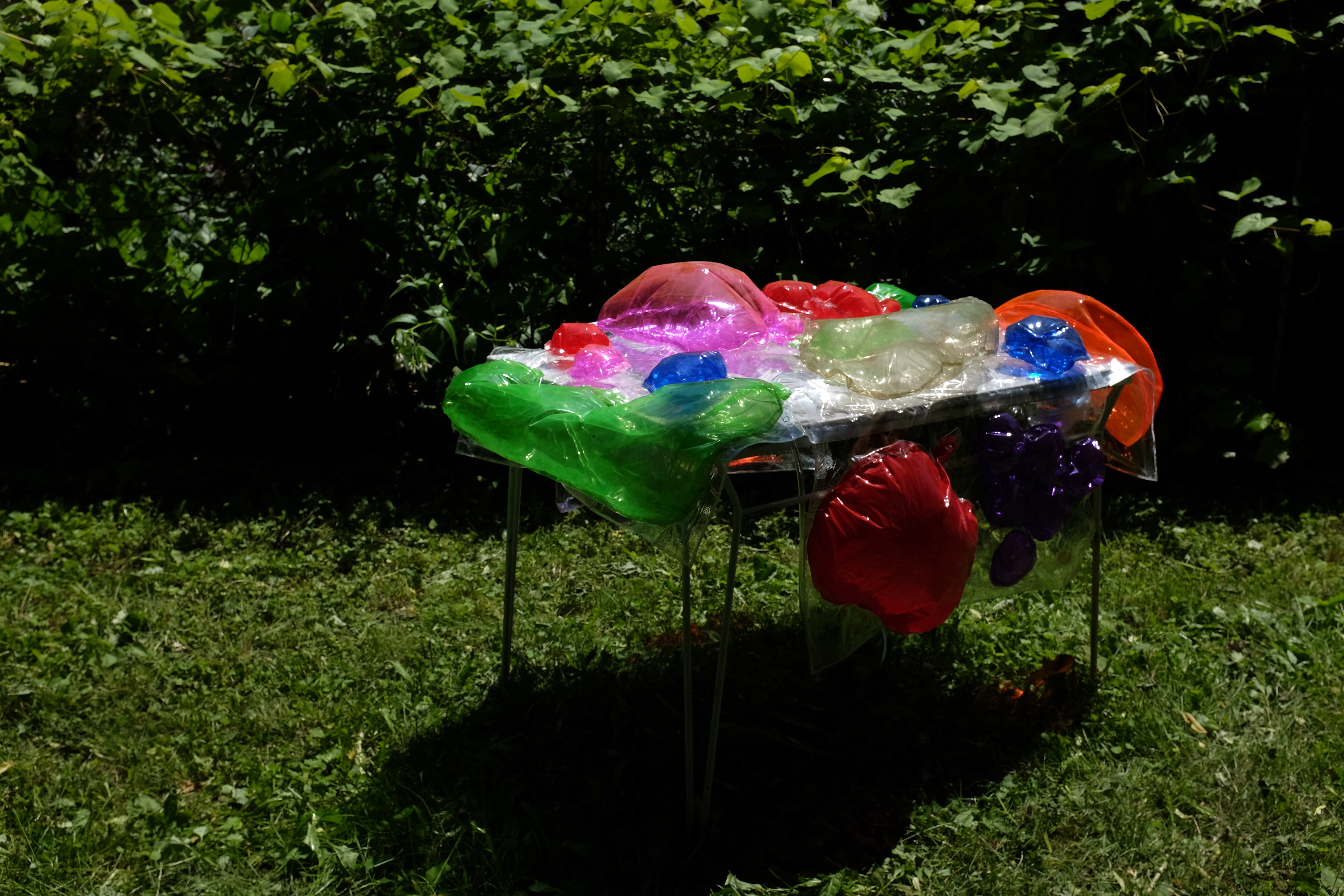 Vanessa Lee Jackson Hollow Feast Tablecloth (2017)
Vanessa Lee Jackson is a Toronto-based designer who creates furniture and objects that exist at the intersection between display and use. Her work showcases the properties that a practical object can hold through the use of phantasmagorical forms. Vanessa's intent is to open up the participant's perception into the realm of the possible, rather than settling on a fixed meaning, by integrating imaginative ornamentation into her furniture forms to highlight that their aesthetics are just as important as their function. Vanessa is a recent MDes graduate from OCAD University and is an instructor in the Craft and Design Furniture program at Sheridan.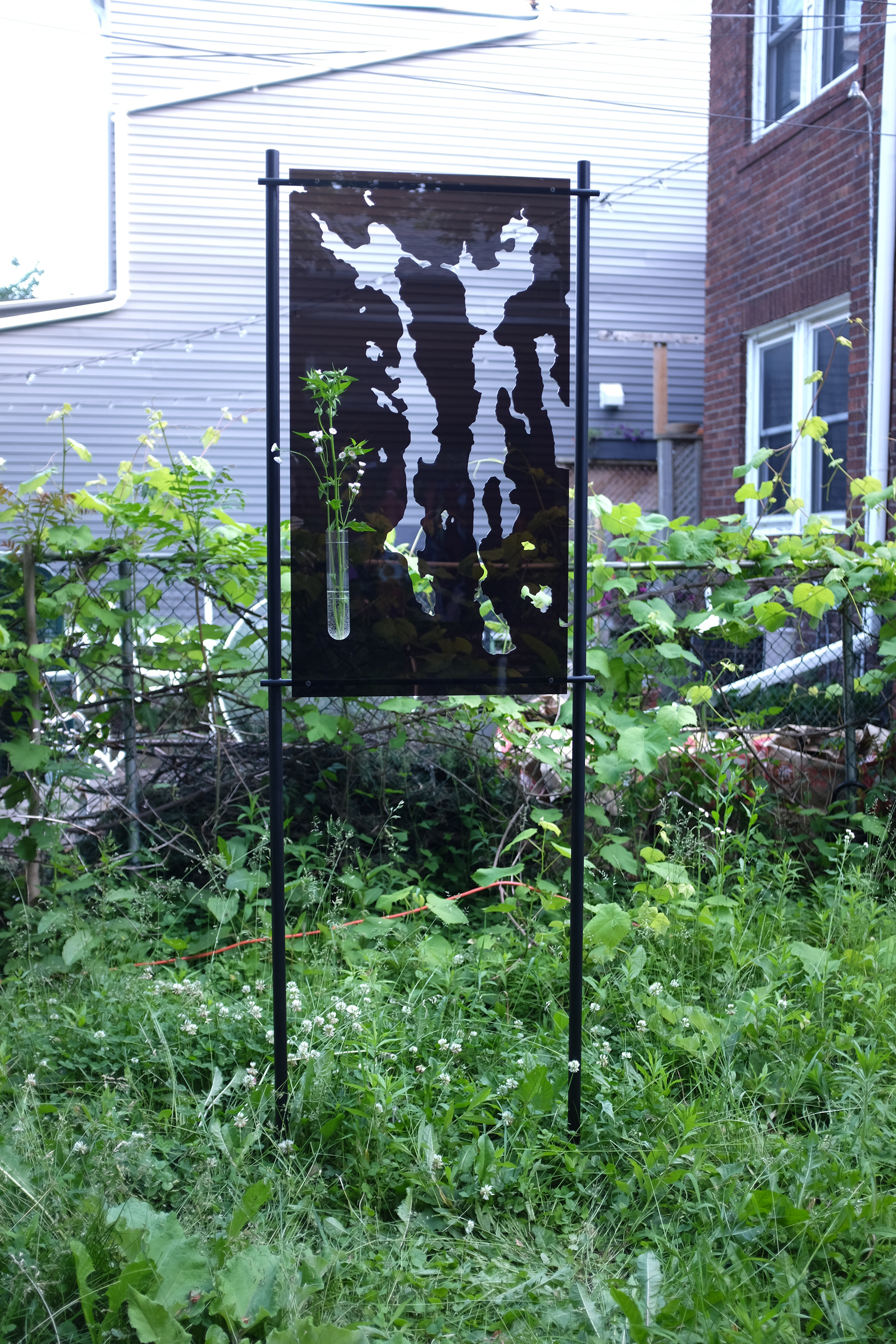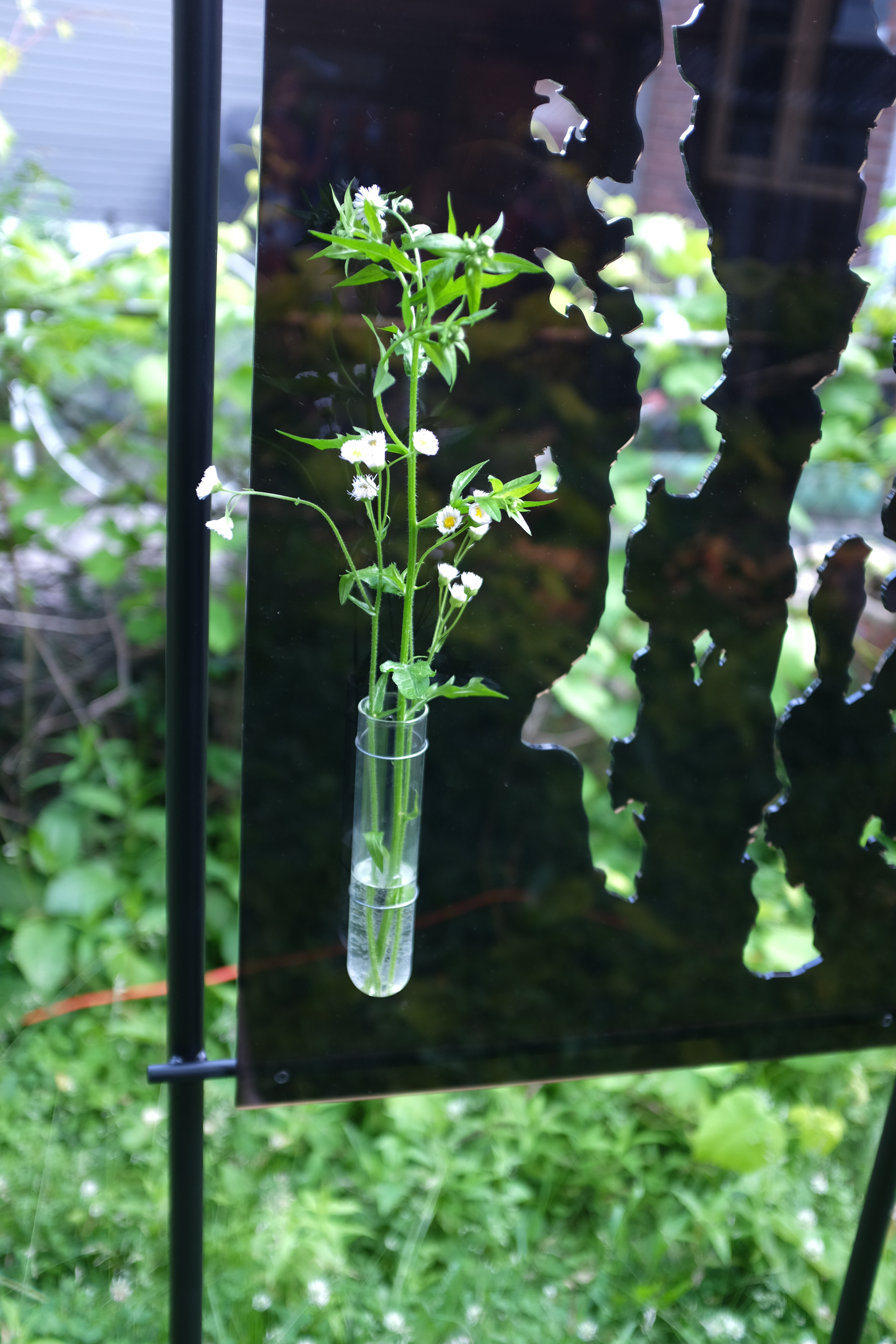 Alastair Martin Willisville (for Willy). (2019)
Alastair Martin is an artist and designer working in Toronto. His practice examines the methods of display used in art and design, and employs abstraction and references to art history to contextualize his work. 
Willisville (for Willy), made in the spring of 2019 for The Last Mile, is a nod to an experience near Whitefish Falls, on Manitoulin Island. The work depicts a topographic view of Charlton Lake and Frood Lake, where the artist lived for five weeks in a small cabin.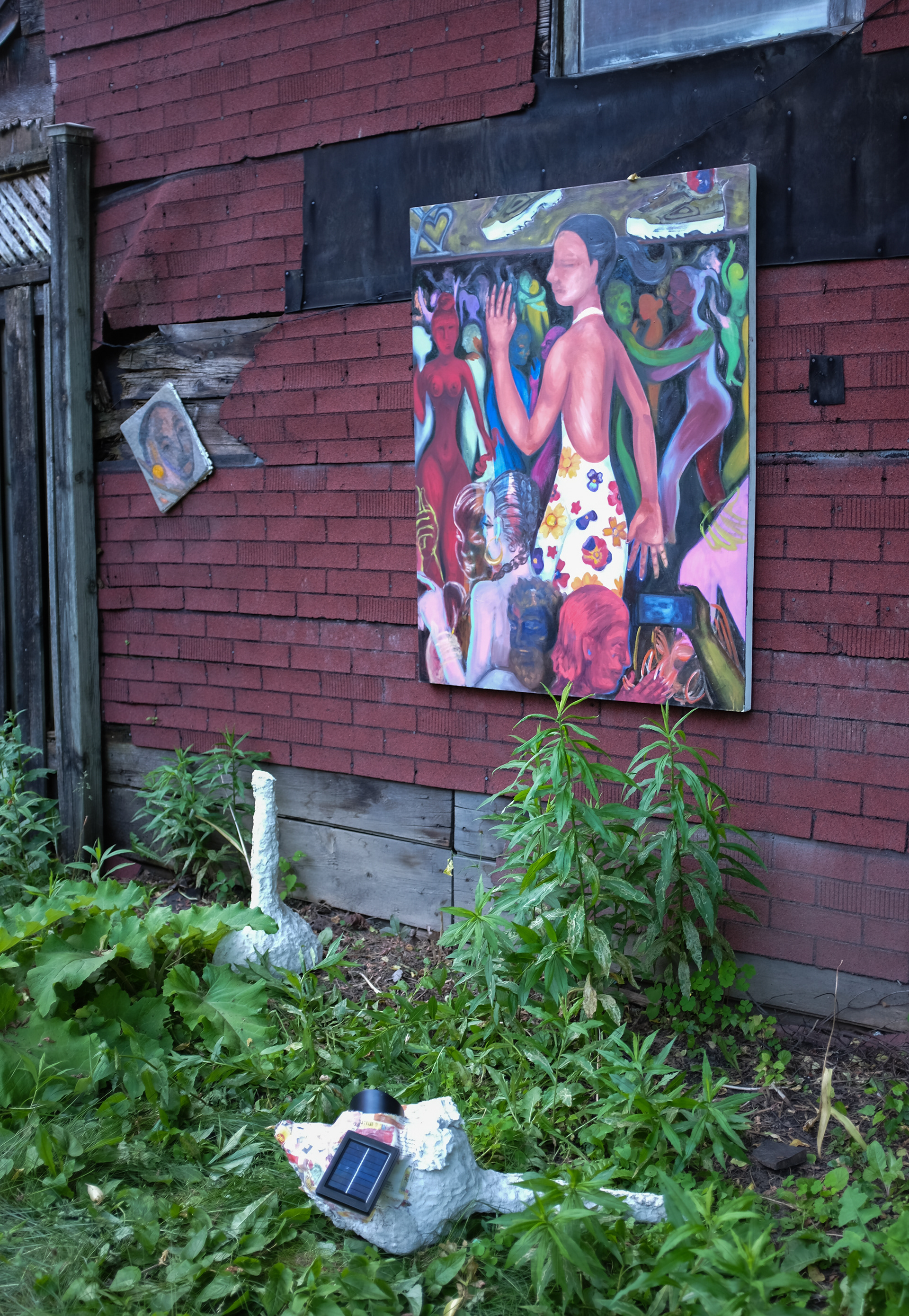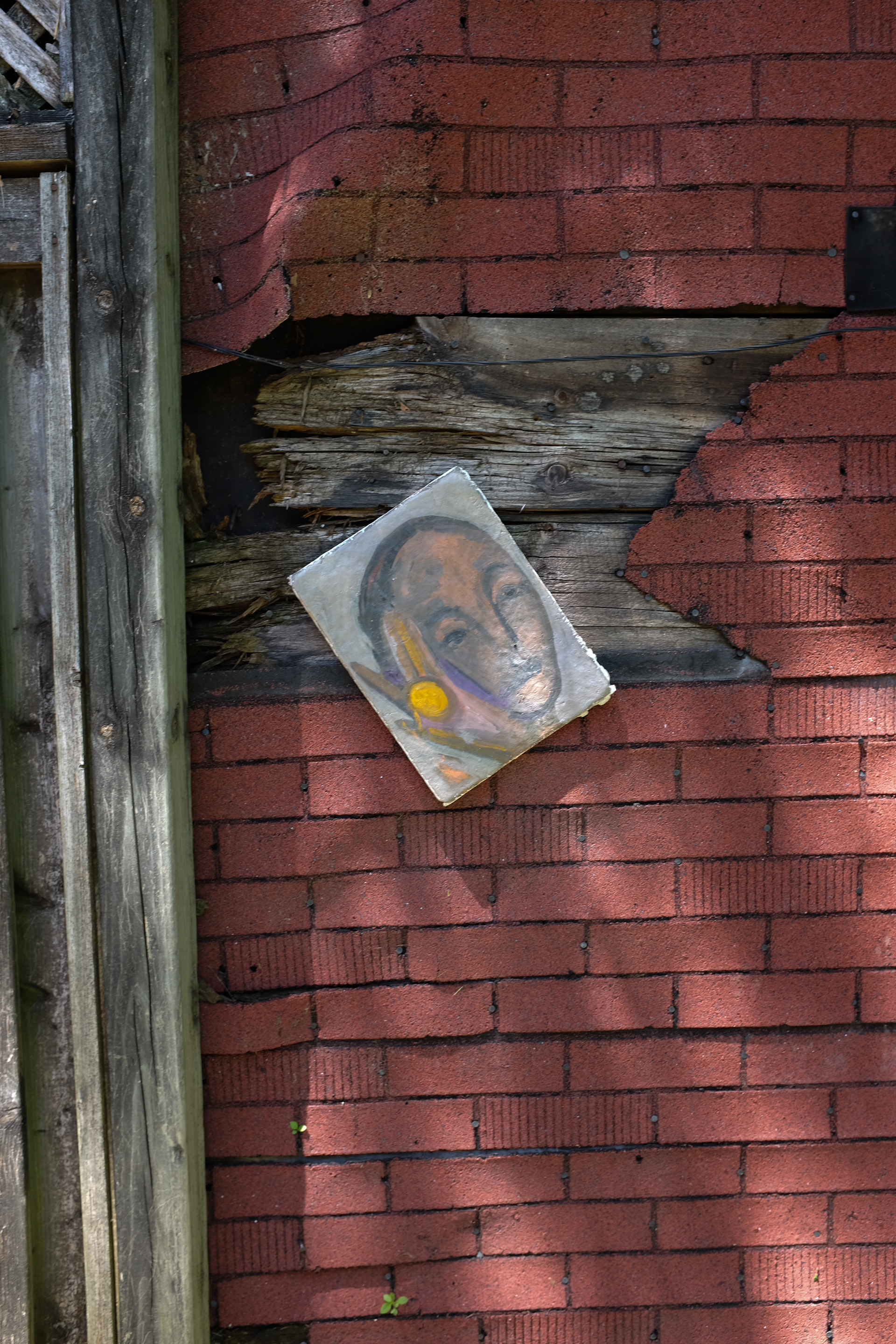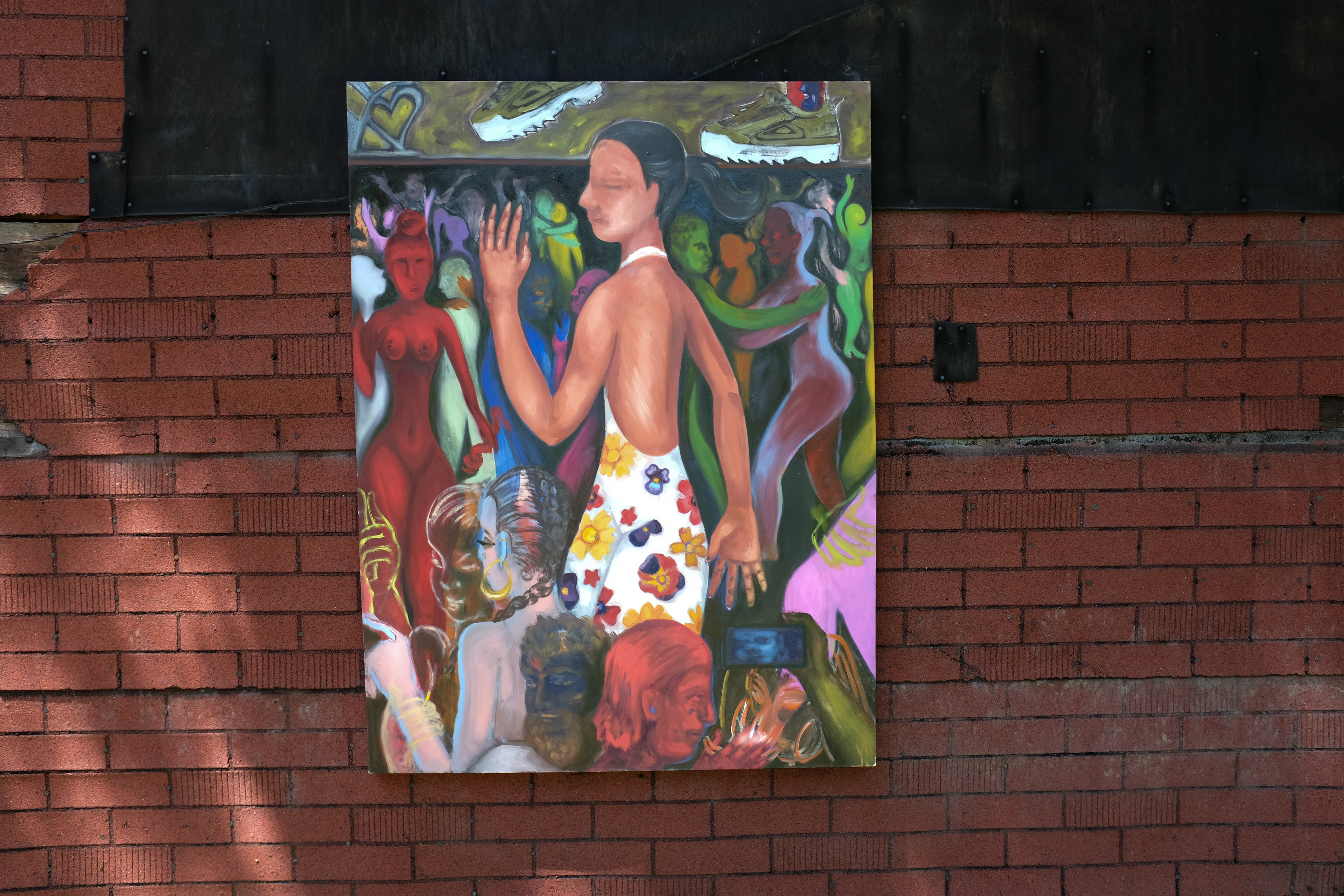 Sarai Stephens Last Call (2019) 
Sarai Stephens Millenniums Confusion (2019) 
Oil on newspaper pulp, drywall compound, flour, and glue.
Sarai Stephens is a painter and sculptor currently pursuing her BFA at the Ontario College of Art and Design. She has exhibited in Glasgow and Toronto. Sarai Stephens makes pictures that ascribe dilemmas of voyeurism and the constant use of the screen to socialized anti-social behavior. Sarai's practice overlaps traditional painting with more unconventional materials of papier-mâché and handmade surfaces.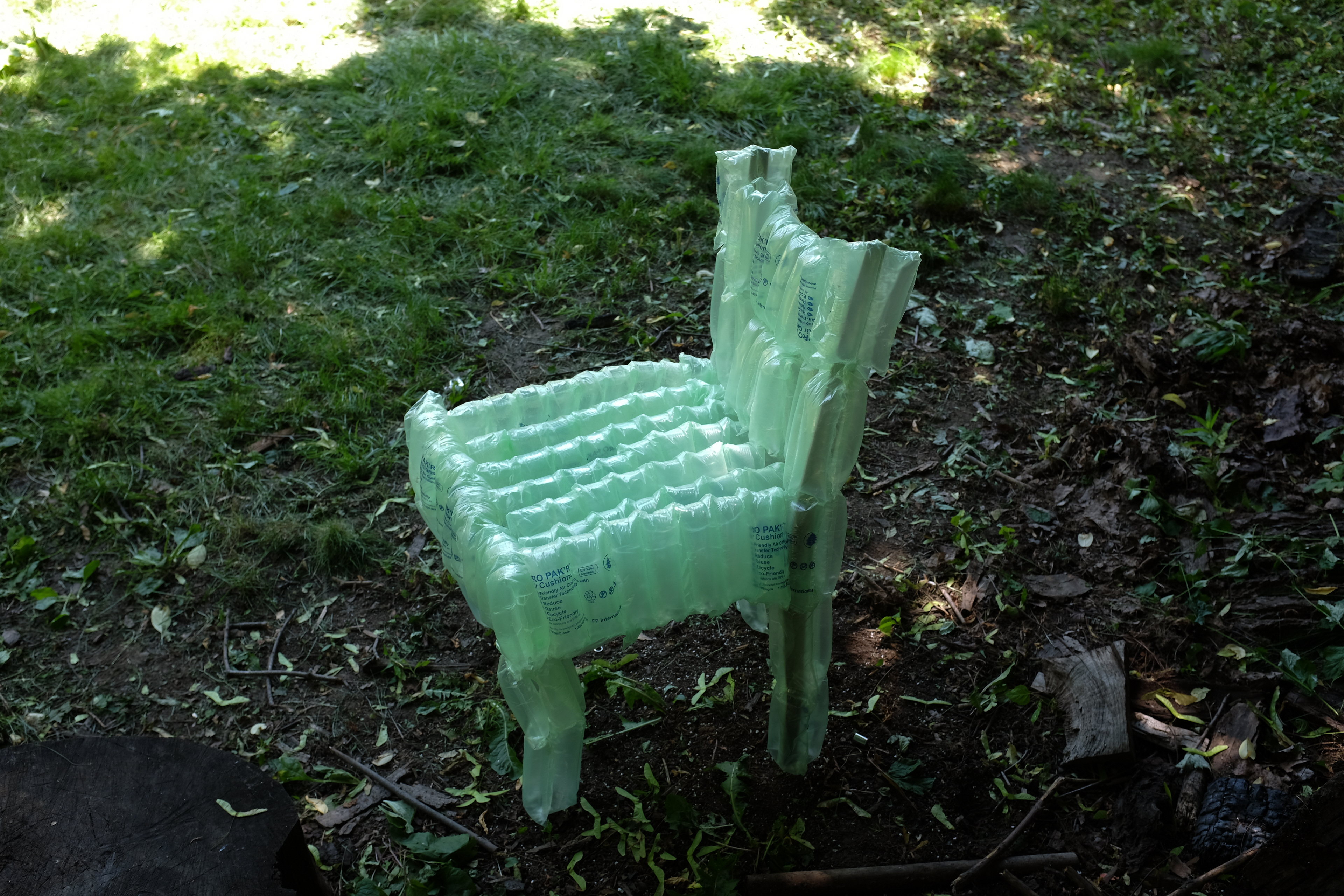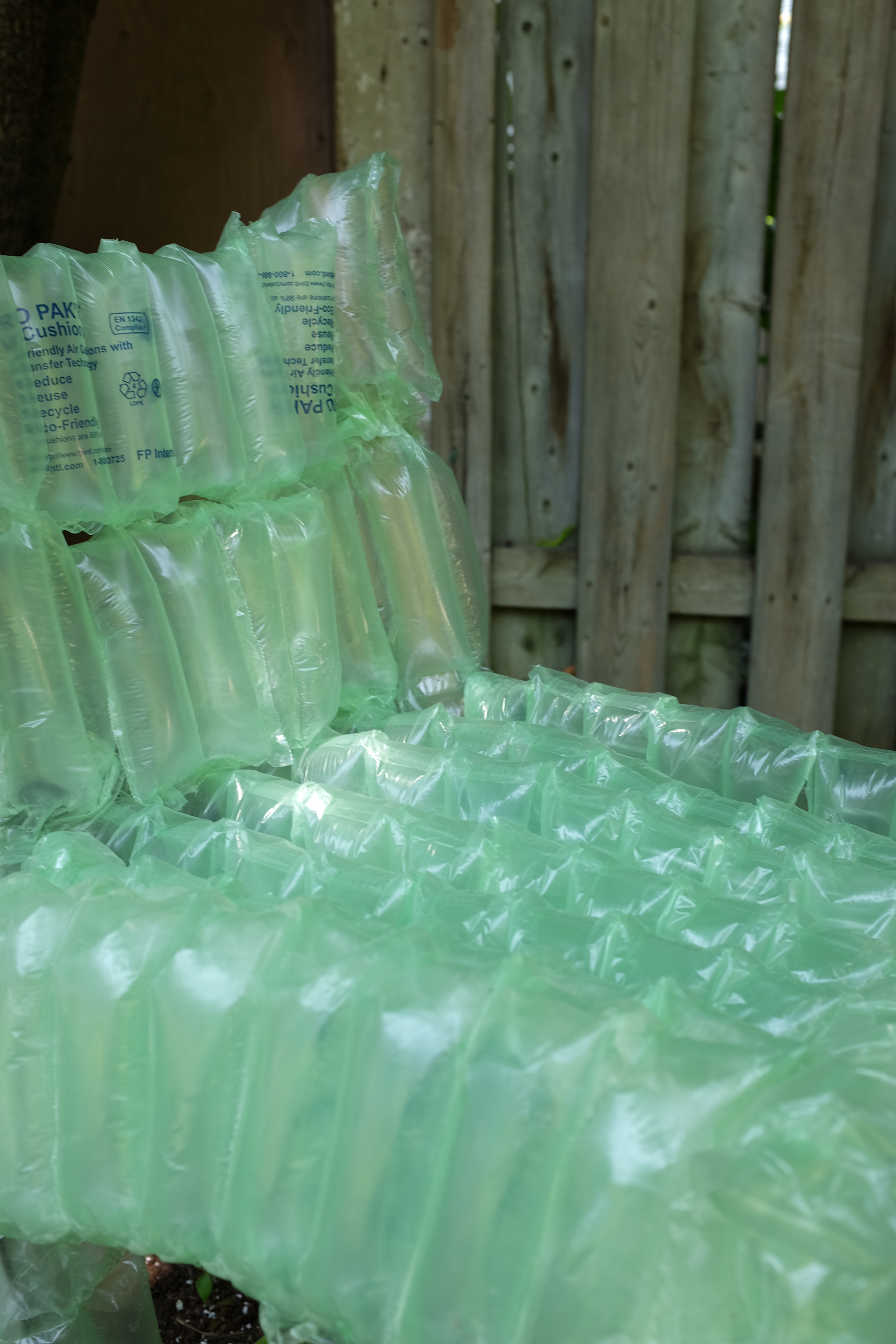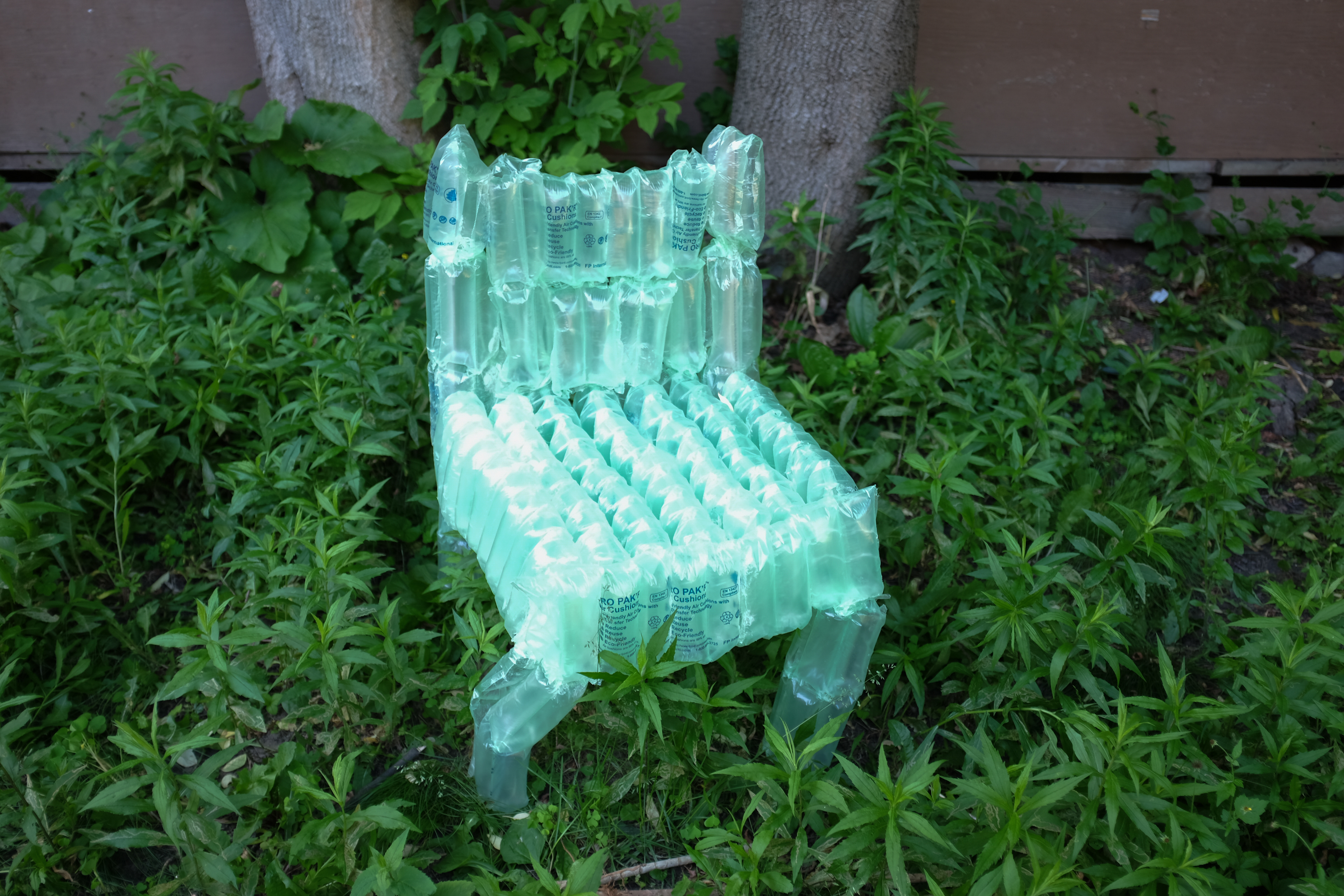 Thomas Kim Packaged (Ch)Air (2019)
J. Thomas Kim is currently working towards his BDes in industrial design at OCAD University where he is also minoring in furniture design and painting. His interdisciplinary, multimedia practice examines the outputs of and relationships between leisure and labour contextualized through his previous studies at McGill in economics and history. Packaged (Ch)Air (2019) is part of the contemporary condition.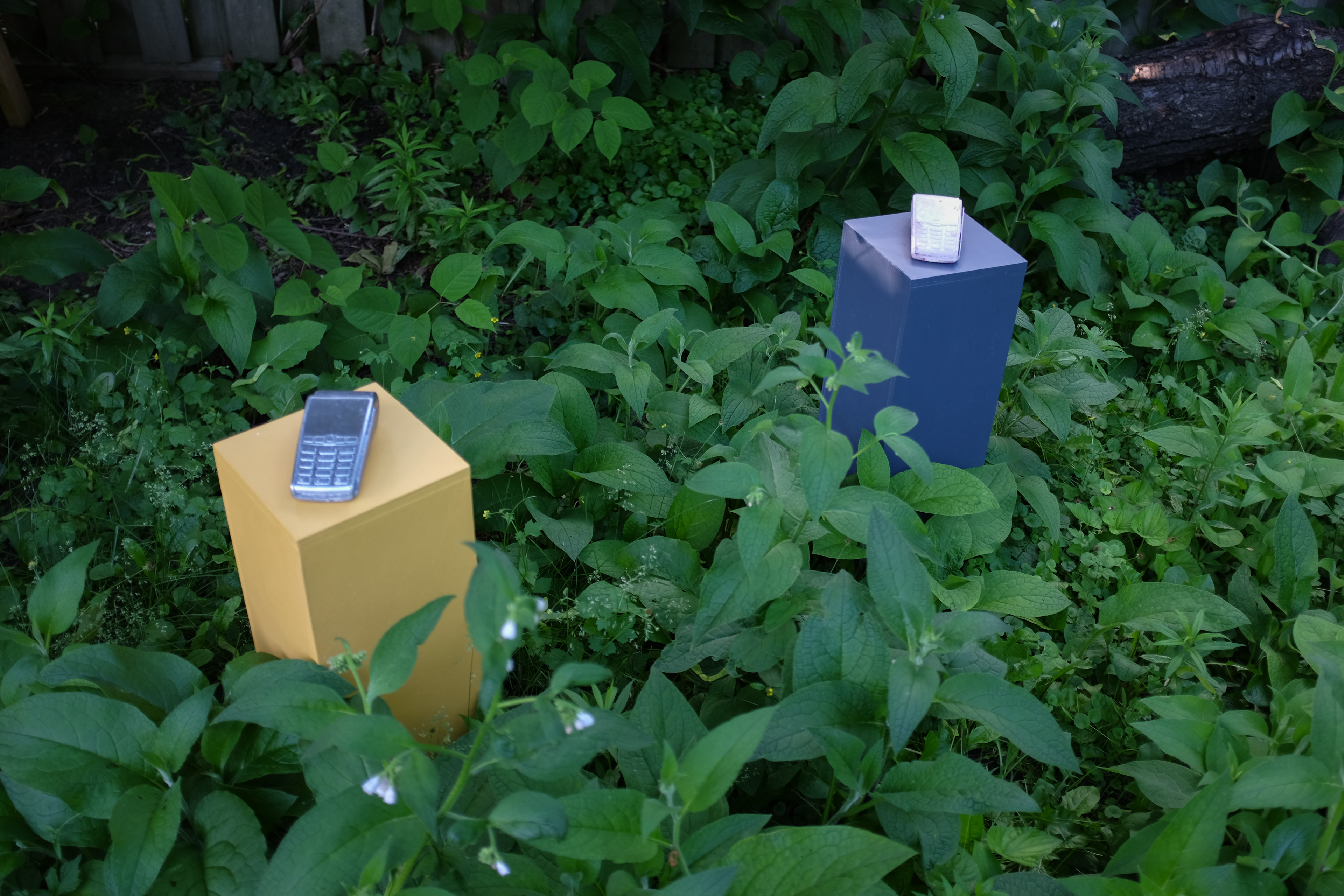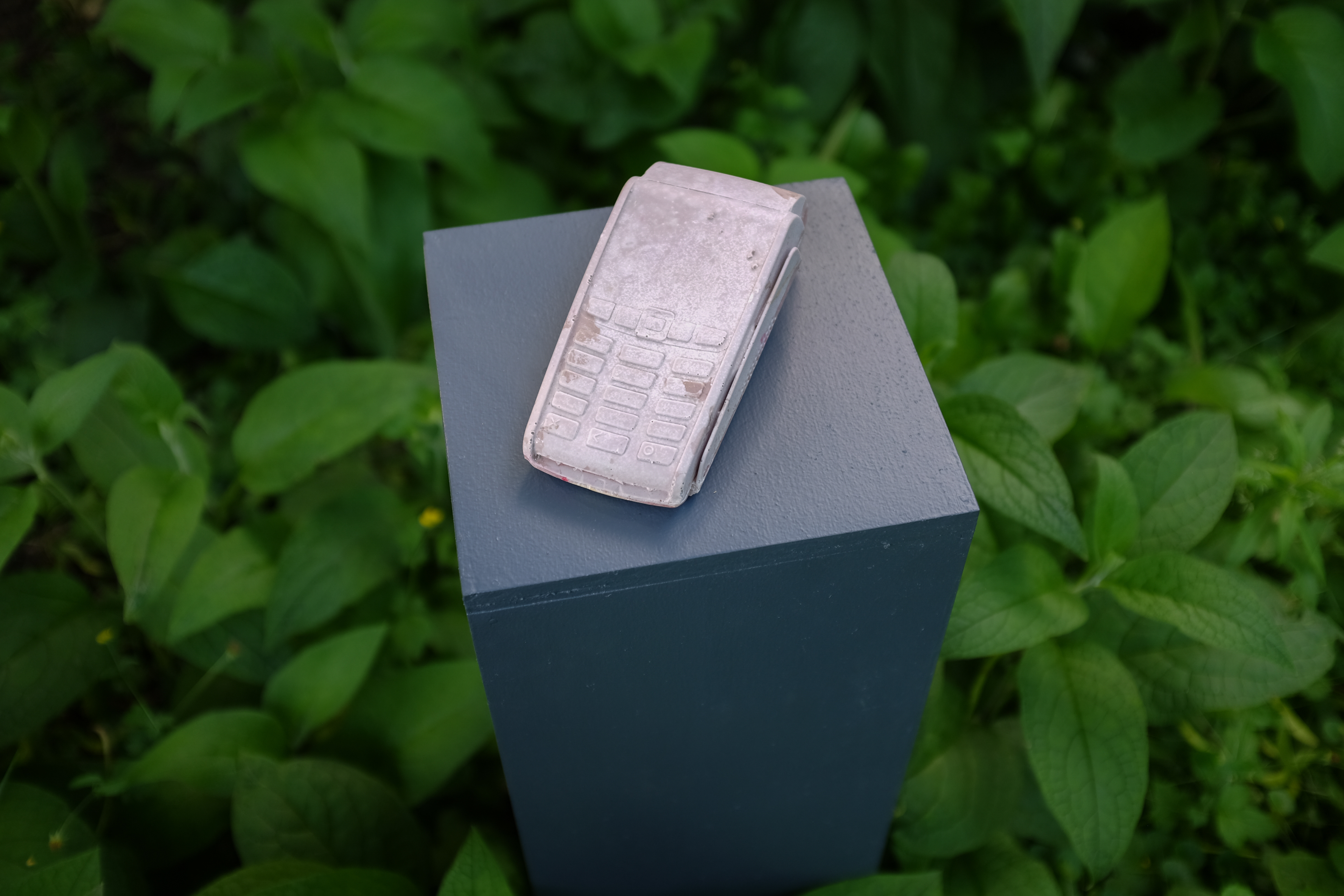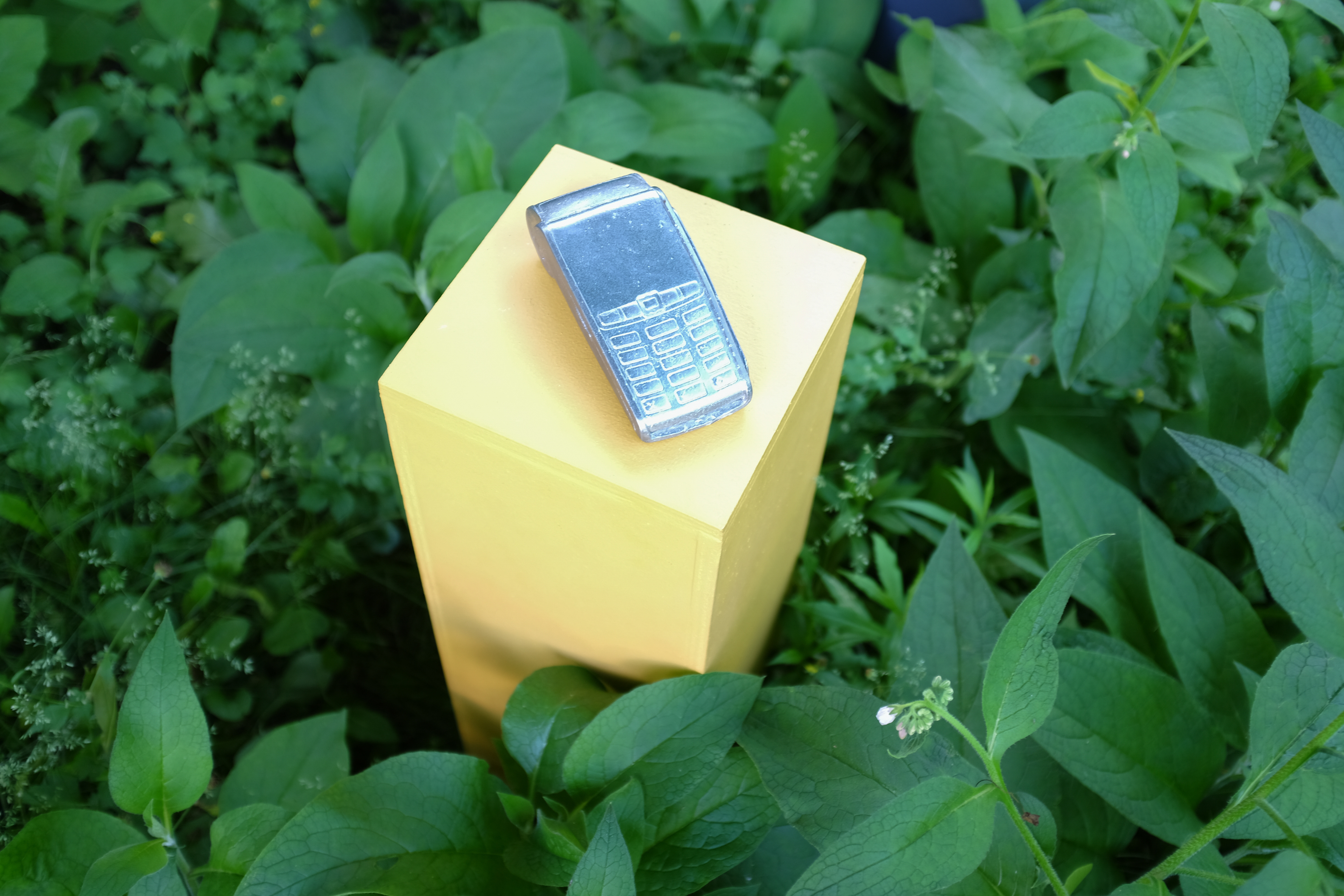 Michelle Cieloszczyk Through and through (2018)
Michelle Cieloszczyk Slurp, slurp and the money's gone (2019)
Michelle Cieloszczyk is a Toronto-based visual artist. She graduated in 2019 with a BFA in Sculpture/Installation at OCAD University, where she was awarded the Haydn Davies Memorial Award. She won the 2017 First Capital Realty Sculpture Competition, the Best of 3D Works Award at the 2018 Toronto Outdoor Art Fair, and third place in VAM41 juried exhibition hosted at the Art Gallery of Mississauga. Through casting and installation, Michelle examines what exerts a force over the public and brings these hard-to-reach power-relations closer to view.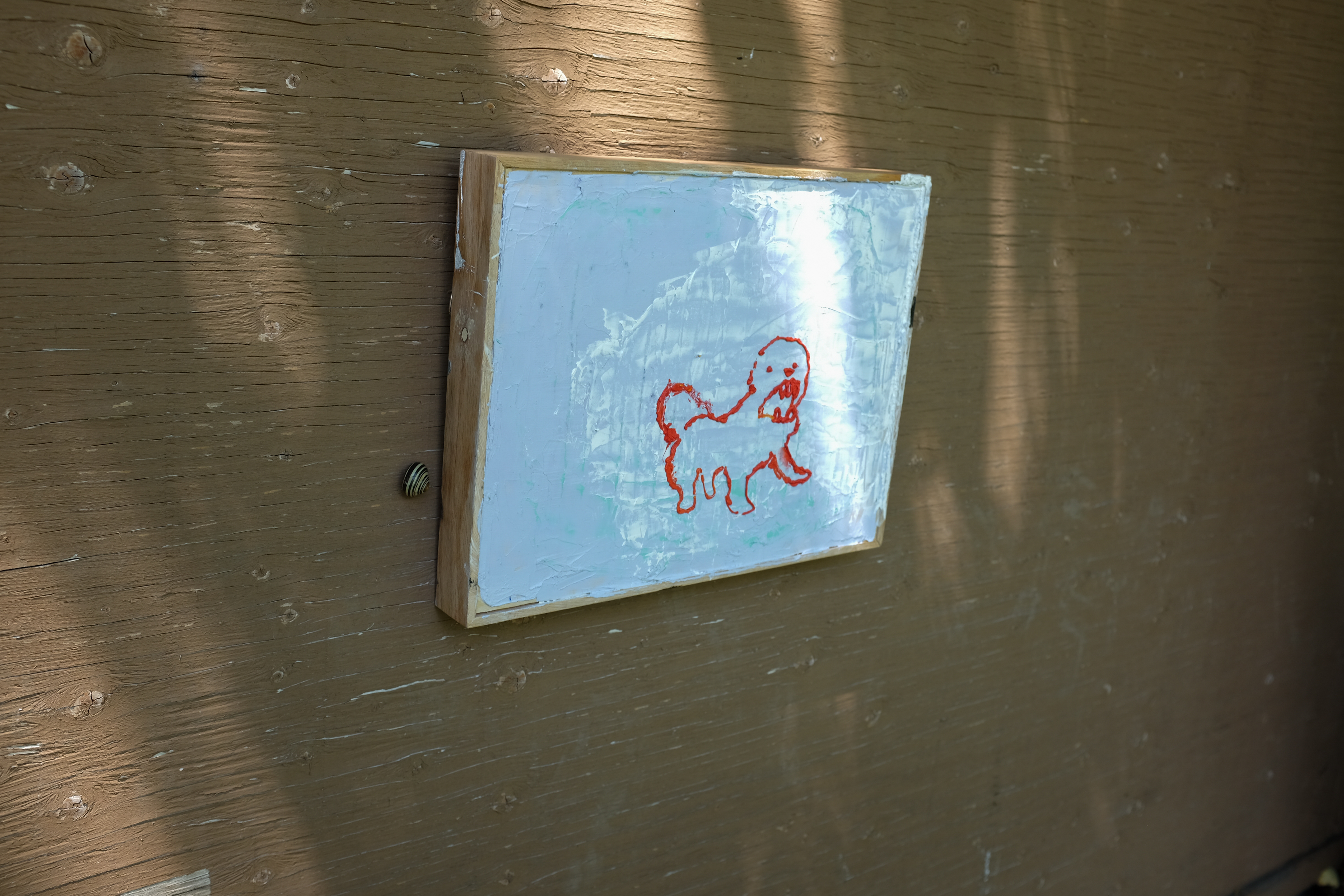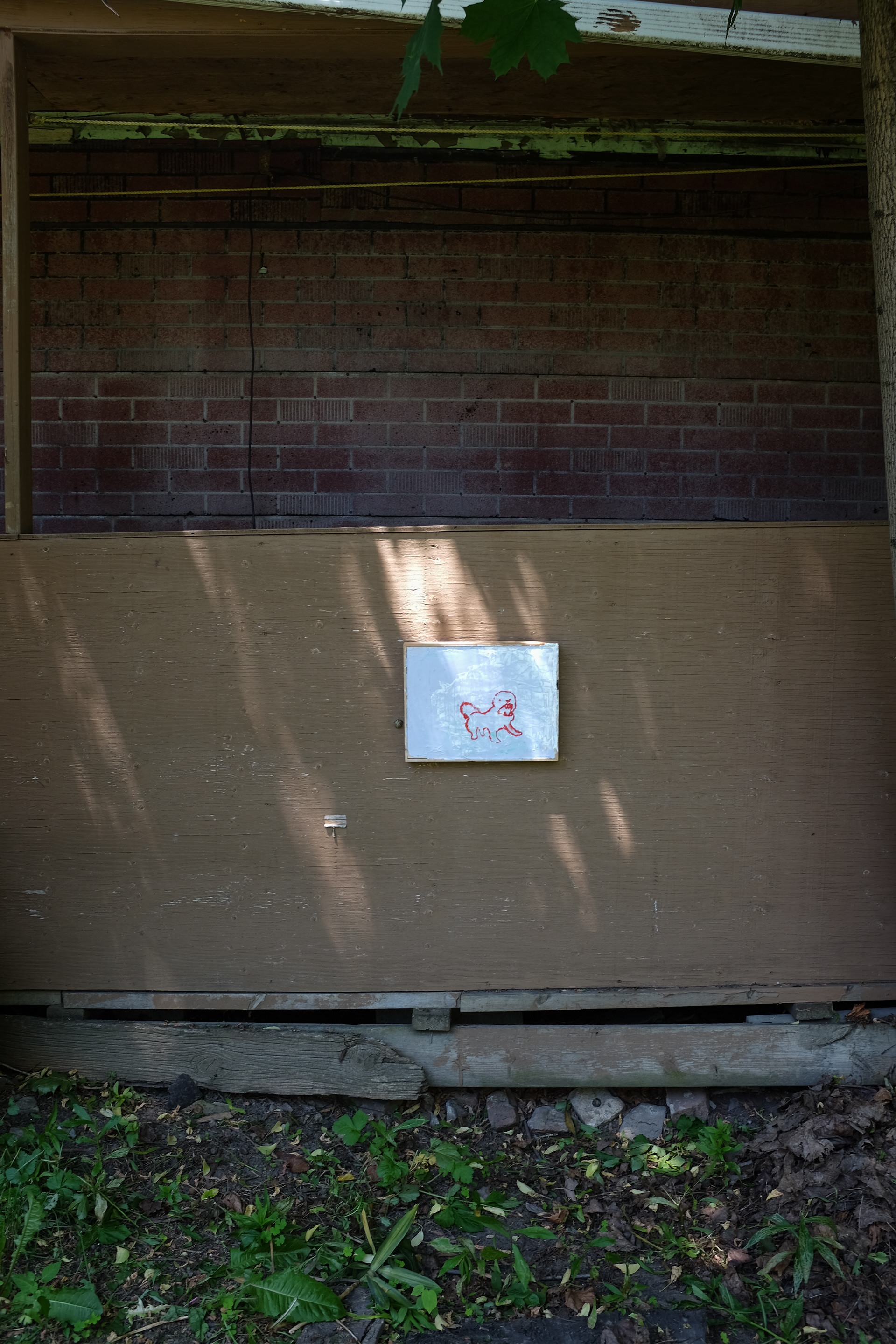 Destiny Grimm Untitled (2018) 
Destiny Grimm is a multi-disciplinary artist. Lives and works in Toronto.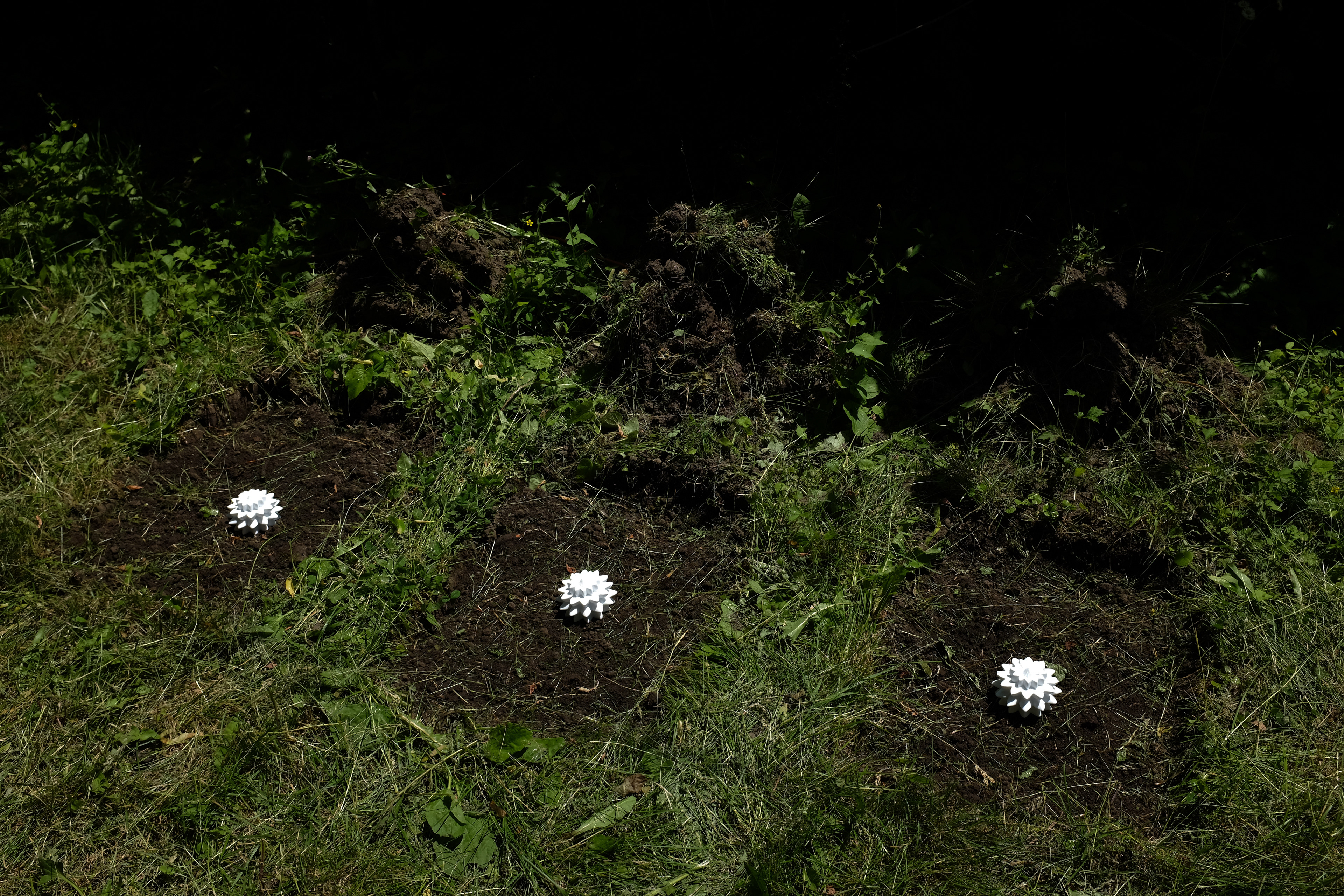 Vincent Charlebois 12, 5, 4, 12 (2019) 
Vincent Charlebois is an interdisciplinary artist born in Montreal in 1986 whose research-based practice constitutes an assemblage of disciplines such as performance, text, and media art. His work explores the archive as poetry, technological interfaces with nature, and human-machine interactions in the context of dematerialized exchanges. He holds a BFA in Intermedia/Cyber Arts from Concordia University, fabricated future forests in British Colombia, and currently studies ecological architecture at IAAC in Barcelona.